Project leads
BLHS

students to engineering, biomed fields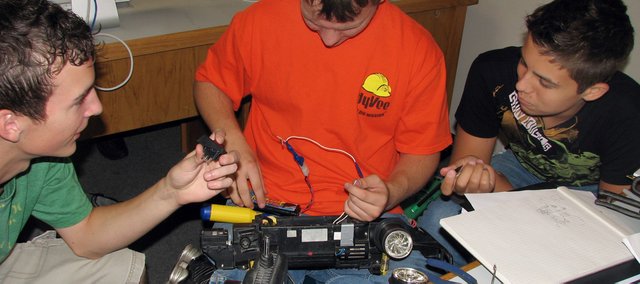 With computers, hands-on projects and a printer that produces three-dimensional models, students at Basehor-Linwood High School are gaining experience for college and engineering careers.
Two classes through Project Lead The Way, a program focused on providing middle and high school students with a background in engineering and biomedical science, have been introduced to BLHS this year, and so far the response from students has been positive.
"We have two classes, Introduction to Engineering Design and Principles of Engineering," BLHS principal Sherry Reeves said. "The student interest is one thing we're watching along with the curriculum itself. The reaction has been, 'Oh, it's hard. It makes me think.' Everything we've read from the curriculum has proven to be true."
Science teachers Kevin Vincent and Bruce Courtney, who teach the introductory class along with industrial arts teacher Steve Myer, who teaches the principles class, attended a two-week training session over the summer to learn the curriculum and how to teach it to their students. Vincent said the intensive training course took the teachers through each project the students will complete in 36 weeks in just 10 days.
"The more I learned about the program, the more I was excited to be a part of it," Vincent said. "It's easy to share the enthusiasm. It exposes them to engineering principals, but more so the problem-solving and the ability to think critically."
So far, isometric and orthographic sketches, which teach students to look at objects from different angles, along with research on the history of measurements has been the focus of the Introduction to Engineering Design class, but students will get into more complicated projects as the year progresses.
Courtney said students would create drawings of a train car, which will then be plugged into a computer program called Autodesk Inventor. The design is mapped down to the smallest details, such as the space between the threads of pegs holding different parts of the train car together. It will then be sent to a 3-D printer, which produces thin layers of plastic to create the different parts of the car. A peg might take five minutes to produce, while a piece of the body might take several hours, Courtney said.
"It's a learning experience for us as well," Courtney said. "The kids are really excited. It's fun, but it's a lot of work. It's teaching them the realities of work ethic."
Students who excelled in their math and science classes were encouraged to go through the application process to take the classes. Sophomore Macyn Sanders said teachers talked to her about the classes several times last year, and while she's unsure whether she'll pursue engineering as a career, she decided to take the introductory class partly because the computer usage appealed to her.
"It's difficult, but it's a good kind of difficult because it teaches you a lot of daily things for your life, not just for engineering," she said.
Since the classes are new to the district this year, several sophomores are doubling up on the classes in order to complete all of the five different classes that are expected to be offered by the time they reach graduation.
Projects are a little different in the Principles of Engineering class, Myer said, but both classes emphasize the method of planning project designs on paper, then plugging them into the computer, then creating them, despite a bit of resistance from students.
"Don't build this without drawing it first," Myer said to students in the Principles of Engineering class, who are working on what is called a SMET project. "And definitely plan on going back and changing your design - that's what engineers do."
SMET, which stands for Science, Math, Engineering and Technology, is a project that has groups of students design and construct Rube Goldberg machines while staying within a certain set of rules. Students must build the machine on a 1-foot by 1-foot piece of plywood, utilize all six simple machines - the pulley, wheel and axle, wedge, screw, inclined plane and lever - and have the machine run its course in a target time of five seconds. All groups' machines will also be connected and materials used in the project must be found objects.
Other areas of study the class will cover throughout the year include examining the wheel and how it affects the speed of a car created from a mousetrap, and designing, building and testing the strength of balsa wood bridges through a computer program called MDSolids, which measures the amount of stress placed on an object through different colors.
"It serves several purposes," Vincent said about the program. "Anytime you can have a program that challenges students, it's going to help them in all of their classes."
Project Lead the Way and the district's goal is to encourage students to take these classes to increase the number of students who pursue a career in engineering and better prepare them for that career choice. It also begins to fulfill the state's push to offer career pathways in schools.
"I don't know if all these kids want to be engineers, but it certainly gives them a pathway to look at and see it that's what they want to do," Courtney said. "And, if they do, it's a great head start for college."