Two major accidents Monday on I-70, K-32 in Bonner Springs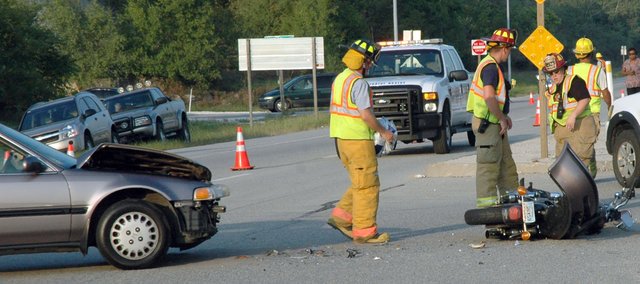 Two serious traffic accidents, including a fatality, took place Monday in Bonner Springs.
At 4:30 a.m., Maynard Mann, 71, Butler, Mo., was driving on the entrance ramp from Kansas Highway 7 to eastbound Interstate 70 when he crossed the exit lane, went into the ditch and struck trees. He was pronounced dead at the scene, and had not been wearing a seat belt. His passenger, Wayne Mann, 59, also of Butler, was wearing a seat belt and was taken to an area hospital for injuries.
About 13 hours later, Monday evening, a motorcyclist traveling westbound on Kansas Highway 32 was hit by a Honda sedan turning onto K-32 from the northbound Kansas Highway 7 exit ramp.
The motorcyclist Jarrett Lane, 44, Bonner Springs, was not wearing a helmet, and was taken by helicopter to University of Kansas Hospital in Kansas City, Kan. The driver of the Honda, Earl Harris Jr., 48, Kansas City, Kan., was not injured.
Jennifer Burnett, Edwardsville, was two cars behind the Honda and said she saw the motorcyclist fly 25-30 feet through the air after the collision, which took place about 5:45 p.m. The Kansas Highway Patrol accident log says Harris was headed west on K-32 from the exit, but Melanie Cornwell, Edwardsville, and other witnesses on the scene, said the Honda was heading eastbound from the K-7 exit. The KHP accident log said Harris ran a stop sign. A medical-rescue helicopter arrived on the scene about 10 minutes after the accident and left after about 45 minutes. Westbound traffic on K-32 and northbound traffic for the K-7 entrance ramp was held up as the road was kept clear for the helicopter and investigation of the accident.