AutumnFest successful with return of parade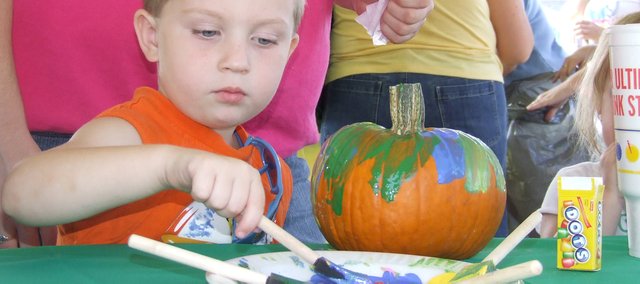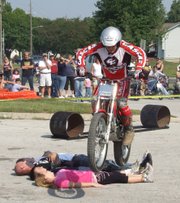 From most accounts, Saturday's Edwardsville AutumnFest was a success, with the return of the morning parade kicking off the day enthusiastically.
"I think it was well-organized for a small community. They did really well," said Jim Bingaman, whose son, Kyle, participated in the parade with the Cub Scouts.
Bingaman said he thought the turnout to the parade was exciting and shows how the community of Edwardsville can come together successfully.
"It helps people get to know each other," he said. "It shines a light on Edwardsville that we're not just a bunch of houses and people going to work. We're a community."
Energy was in the air Saturday as people lined the streets waiting for the parade. With such sights as the Bonner Springs High School marching band, antique cars, people throwing candy and a mini-motorcycle troop doing tricks, the parade did not disappoint in its comeback year.
Phyllis Freeman, the event's coordinator, said that last year when the parade was cancelled due to lack of manpower, many Edwardsville residents were not happy. This year, she said, most of the comments she heard were people showing excitement that the parade had returned.
Overall, Freeman said the whole AutumnFest day went perfectly and exactly as planned. Freeman described the event as "fabulous" and said she saw more people attend than ever before, with a full bingo hall at the end of the day and a record-breaking 15 entries in both the pie and chili contests.
"We couldn't have asked for better weather or turnout and participation," she said. "Everyone seemed to enjoy all the entertainment, and everyone had a great time."
Ideas are already forming for next year, but Freeman said nothing would be decided until the committee's wrap-up meeting. For now, she said she's just trying to catch her breath after her busy year of planning.
Following the parade, craft tents were up and running as people made their way over to Edwardsville Plaza to shop at the various vendors. Also in full swing were the barbecue contestants as they continued to prepare their entries for the event that started Friday evening.
Two inflatable toys were set up for kids in the grassy area, and in the parking lot in front of Mac's Place, the Extreme Track and Trial Team amazed a growing crowd with motorcycle tricks that included jumping over four crowd members lying on the ground.
For Debbie Adams, the event's activities and entertainment were almost complete. Adams, who comes to AutumnFest every year, said she enjoys the local event that gives all her family and friends an excuse to get together.
"I think it's great they have it every year," she said. "It gets the community together."
Her only complaint this year was that there were no rides for the children. She said last year the event had a ride but no parade, and this year the event had a parade and no ride. Her suggestion would be to have both next year to make the event even better than it already is.
Monica Uhl, of Edwardsville, also had another complaint to add to the list.
"There are no funnel cakes," she said laughing, half-joking.
This was the first year Uhl had attended the AutumnFest in several years after moving away to attend college. Now that she's back, she said she remembers the fun atmosphere the event brings out each year and is looking forward to attending for many years in the future.
Something different, however, than when she was a teenager walking in the parade, she said, is that the event was moved to the central location of Edwardsville Plaza at Blake and Fourth streets. She said she thought the location helped draw more people because of its visibility.
"I think they're important," she said of AutumnFest. "It's good to get out and see who you live around."
Awards for the best float winners in parade were announced at Monday's City Council meeting. The 2008 winners are as follows:
¢ Mayor's trophy for best float: Golden Living
¢ City Council trophy for reserve champion: VFW Post 6401
¢ Chamber of Commerce trophy: the Trout family, who decorated an ATV to look like a dragon
¢ Bank Midwest trophy: Boy Scouts
¢ Wally's best car trophy: Black Mustang convertible
¢ Sharron's Flowers trophy for best theme: Vaughn-Trent
¢ Mac's Place trophy for most interesting: Madd Minnies Motorcycles
¢ Kiwanis trophy for church unit: Edwardsville United Methodist Church