Turner tops Basehor, 20-14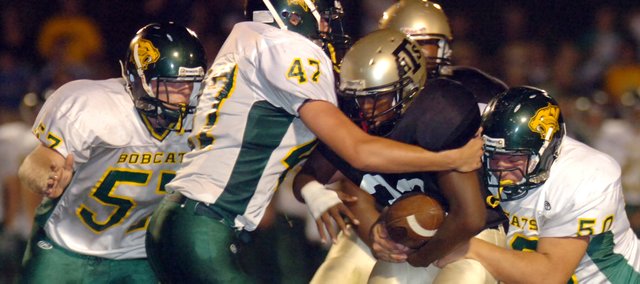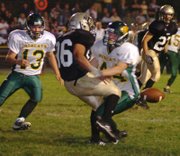 Basehor-Linwood quarterback Brandon Leppke's pass to Ben Zuk dropped to the ground with less than 30 seconds to play on Friday.
With the incomplete pass, Basehor-Linwood fell to 1-3 on the season as Turner won the game 20-14 at Turner Stadium.
Earlier in the quarter, Basehor-Linwood had driven the football for numerous first downs before the drive stalled out on an incomplete pass.
Turner punted after three downs, but the Bobcats could not score on their final possession of the game.
Again, Basehor-Linwood failed to convert.
After the game, coach Steve Hopkins said the Bobcats had chances to win the game.
"We moved the ball over the field," he said. "We can't give turnovers that go for touchdowns and we can't give up fumbles. Our offense put our defense in terrible positions throughout the game. Our defense played outstanding."
Turner scored first when a pass was intercepted by Quincy Peaches and returned 73 yards for a touchdown.
The extra point attempt failed. Basehor-Linwood drove the ball on its next possession, but the drive stalled when Leppke's pass fell incomplete.
On the following drive, Turner fumbled the football while attempting to punt and the Bobcats recovered the ball in the end zone.
Basehor-Linwood took the lead with 3:17 left in the second quarter when Leppke rushed in for a touchdown.
Turner scored late in the second quarter on a touchdown pass from Jeff Smith to Brevan Seman. The team's extra point attempt failed.
Basehor-Linwood led 14-12 at halftime.
In the third quarter, the Bears scored on a touchdown run by David Bernal. Leading 18-14, Turner converted the two-point conversion with a pass from Smith to Isaiah Harris.
The score was the team's final score of the game and the difference in the game.
Basehor-Linwood coaches will evaluate all areas of the team this week, Hopkins said.
"I told them we will watch the video and evaluate every position and every coach, we can all do better," he said. "I believe we can be a good team, but we can't shoot ourselves in the foot."
For a full recap of the game, pick up Thursday's edition of The Sentinel.