Bowyer finishes second to increase lead over Edwards
Hamlin takes checkered flag ahead of Kansas native in Kansas Lottery 300; Missouri native takes fourth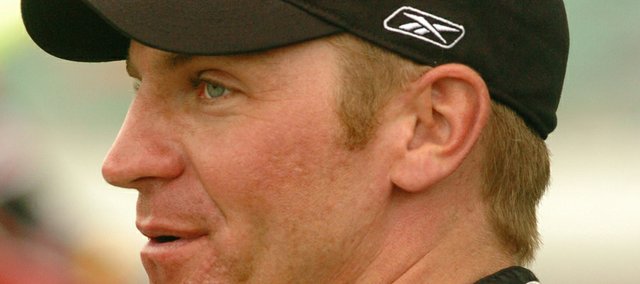 Kansas City, Kan. — Clint Bowyer playfully joked about all the differences that exist between he and racing competitor Carl Edwards. Bowyer, from Emporia, is a Kansas Jayhawks fan. Edwards, a native of Columbia, Mo., roots for the Missouri Tigers.
Perhaps the biggest disparity between them now is Bowyer's ever-growing points lead in the NASCAR Nationwide Series.
Bowyer finished second Saturday afternoon in the Kansas Lottery 300 at the Kansas Speedway, increasing his Nationwide points advantage to 196 over Edwards, whose fourth-place finish kept him in second overall.
Denny Hamlin won the race, his fourth victory this season. Hamlin began the day in row 10 and 19th position and took over the lead on lap 93. He became the eighth different driver in eight Nationwide races at the Speedway to capture victory.
Bowyer earned 170 points for his performance in front of a highly partisan crowd. Edwards received 160.
"To come back here, this is both of our home tracks," Bowyer said. "It's kind of the battle of the borders for Carl and I to be here, him being from Missouri and me being from the Kansas side. ... Trust me, there aren't two racers out there that want to win here more than he and I."
Edwards said he fought back all day and was pleased with his crew, but it wasn't enough to gain ground on Bowyer.
"I guess we'll just go on and hope we can catch Clint somewhere else," Edwards said. "He did a good job."
Edwards may not even have a realistic shot at catching Bowyer with 30 races down and only five to go this season. That doesn't mean Edwards isn't still keeping an eye on Bowyer's progress.
"Oh yeah," Edwards said. "I guarantee you that Clint and I know where each other are as much as anybody on the race track."
Pole sitter Kevin Harvick led 88 of the first 93 laps. Then, he struggled following a slow pit stop with the race under caution. His car slowed further when his alternator went out, and he finished the race in 13th place.
David Ragan posted his best career finish with a third-place showing.
Kyle Busch, last week's Nationwide winner, spun into the wall attempting to get to pit road halfway through the race and did not finish.