Lions win Wildcat Invitational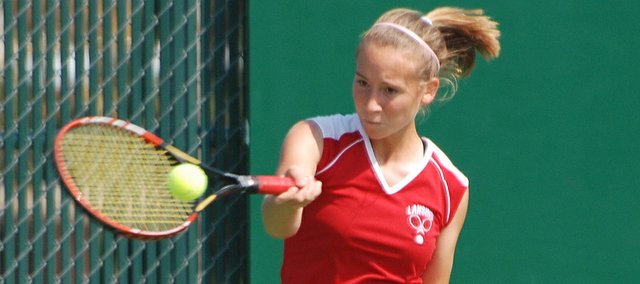 Photo Gallery
LHS tennis wins Wildcat Invitational
De Soto — The Lansing High tennis team's red-hot season got even better on a red-hot day Saturday at the Wildcat Invitational.
On a hot, sunny day with temperatures in the 80s, the Lions handled the heat - and the opposition - in impressive fashion while rolling to a first-place finish at De Soto High School.
Individually, singles player Amy Briggs and the doubles team of Ariana Domke and Anisha Patel earned third-place finishes in the 16-player brackets. In addition, doubles players Ashley Harrington and Katelyn Griffen placed fifth and singles player Allison Dillon finished sixth.
As a team, Lansing piled up 38 points, well ahead of runner-up Kansas City Christian's 26. Leavenworth and Mill Valley tied for third with 21 points apiece.
Briggs, the tournament's No. 2 seed, started the day with a bang as she cruised to an 8-0 victory over Bonner Springs' Meghan Miller in the first round. Briggs then posted an 8-1 victory over Atchison's Tiffany Grand to advance to the semifinals.
Briggs' toughest match of the day came against No. 3 seed Bre Alholm of Kansas City Christian. In a match that featured numerous long volleys, Alholm defeated Briggs, 8-3. Alholm fell to Mill Valley's Lindsey Buenger in the finals, 8-4. In the third-place match, Briggs beat Leavenworth's Paige Sheaks, 8-0.
Domke and Patel, the tournament's No. 3 seed, made quick work of their early opponents, claiming 8-3 victories over Emily Boerkel and Anna Cline of Atchison and Lauren Heinen and Ashley Cole of Gardner-Edgerton.
Tournament champions Susie Gulley and Hana Lindbloom of De Soto knocked off Domke and Patel in the semifinals, 8-1, but the pair bounced back for an 8-6 win against Leavenworth's Andrea Messen and Emily Harper in the third-place match.
Harrington and Griffen, the No. 15 seed in the bracket, dropped their first match of the day - an 8-2 setback against Gulley and Lindbloom - but bounced back to win their final four matches of the day. They beat Shelby Moore and Katie Bauer of Mill Valley, 8-5; Breanna Tendick and Samantha Haas of Bonner Springs, 8-5; Michelle Sunderland and Caroline Toler of KC Christian, 8-1; and Gardner's Heinen and Cole, 8-5.
Dillon began the day as the No. 11 seed, and she compiled a 2-2 record for the day. She upset No. 6 seed Molly Sevcik of Leavenworth, 8-0 and lost a hard-fought second-round match to Alholm, 8-3. Dillon then beat No. 10 seed Tiffany Grand Pre of Atchison, 8-3, before falling to No. 8 seed Megan Larrabee of KC Christian, 6-2, in the final match of the day.