'

Voter intimidation' alleged by local politician
'

Threats' consisted of promise to not patronize businesses displaying campaign signs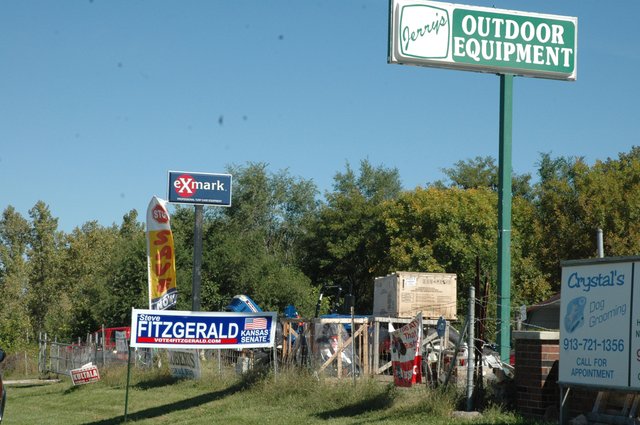 A candidate for a local Kansas Senate seat says his opponent is threatening businesses who support him.
The "intimidation" as Steve Fitzgerald, Republican candidate for the 5th State Senate District seat calls it, consisted of two phone calls to local businesses in which the caller said she would stop patronizing them while they display Fitzgerald's campaign signs.
One of those calls came from a number that corresponds to Fitzgerald's Democratic opponent, Kelly Kultala. The caller left a message Aug. 26 on the answering machine at Jerry's Nursery, 5319 N. 139th St., Kansas City, Kan.
A woman's voice says on that recording, "Ah, hello, I was wondering if you were supporting Steve Fitzgerald for the state Senate race. I noticed that you have a big sign out in front of your business and he's kind of a creepy nut out of Leavenworth. We've spent a lot of money at your business and we will not be coming there any longer as long as you still support …" at which point the recording ends.
Dan Jones is the owner of Jerry's Nursery, which is next door to the business where the Fitzgerald campaign sign is displayed, Jerry's Outdoor Equipment, 5333 N. 139th St.
In a news conference called by Fitzgerald's campaign Tuesday morning at the nursery, Jones said he felt intimidated "monetarily … if a politician threatens not to do any business with your store and she's a friend of the governor."
That's despite the fact Jones said in a statement, "as far as I know I've never had any personal business from her."
Jones said he thought Kultala's past positions as a member of the Unified Government of Wyandotte County/Kansas City, Kan. Board of Commissioners and the Piper School Board that "she's going to stop me from further business with any of those organizations," although no such statement is made on the recording.
The caller did not identify herself on the message.
Shortly after receiving the message, Jones' brother, Gary Jones, said he called Kultala and told her, he said, "if you want to put a sign up here, you can. … She came and put a sign up. … She said thank you for the call back. She was very nice. … I'm sure she thought she was calling here" when she left the message at the nursery next door.
Another business owner, Steve Flanagan, owner of Buggy Bath Car Wash and Ensign Storage Units, 401 N. 130th St., said Tuesday the manager of Ensign had received a similar call. After talking to Fitzgerald about it, Flanagan had the manager, Rachel Koch, listen to the recording at Jerry's nursery and she identified the voice as the same person, he said.
Fitzgerald said he thought the phone calls were an effort to "suppress voter involvement."
As to why the campaign sat on the phone calls for more than a month, Bob Keane, Fitzgerald's campaign manager, said, "we sought advice on the legal ramifications."
Neither he nor Fitzgerald could name any such ramifications.
In a statement, Fitzgerald said, "Mrs. Kultala is personally engaged in voter intimidation in the district."
Asked about his use of that phrase, Fitzgerald shied away from the description and said it was a "legal term."
Still, he said, though the term might not apply legally, he said he thought the phone calls could be defined as voter intimidation. Keane said earlier that the campaign had not consulted a lawyer before deciding to use the term.
Fitzgerald's statement also included a quote that the phone calls "may even be illegal."
In a statement released Tuesday afternoon, Kultala said, "At no time have I ever made threatening remarks to Mr. Jones, or any other business owner. Any such accusation is completely fabricated. In regard to the phone message I left for Mr. Jones, I was simply expressing my concerns that he would promote my opponent at his business, Jerry's Nursery." Of the Fitzgerald campaign's allegations of voter intimidation, Kultala said in a phone interview, "I think they just used the word for sensationalism and got people to come to a press conference."