BOCC

accepts

HUD

money for foreclosures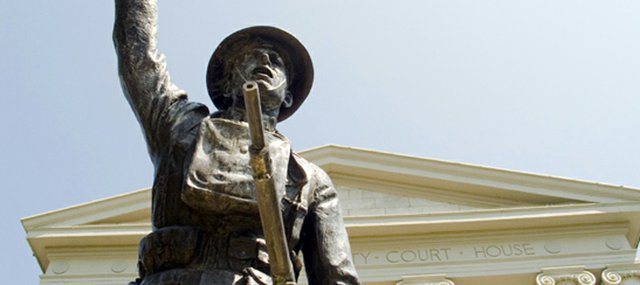 In September, the U.S. Department of Housing and Urban Development allocated nearly $4 billion to state and local governments to provide assistance to acquire and redevelop foreclosed properties to keep them from becoming a blight to the community.
On Monday the Leavenworth Board of County Commissioners voted, 2-1, to participate in this program and accept the $1,230,663 offered to the county from the Kansas Department of Commerce. Commissioner Clyde Graeber was the dissenting vote.
Out of the total money, $20,970,242 was given to Kansas and targeted at the top 21 of the 105 counties in the state. A report given to the county from Christopher Dunn, planning and community development director, said that Leavenworth County was number five on the list.
The Kansas Department of Commerce has appointed the Rural Development Association of Northeast Kansas to help facilitate the The Neighborhood Stabilization Program.
On Monday, Virginia Dienstbier, with the Rural Development Association of Northeast Kansas, was in Leavenworth to answer any questions
The grant money allows for a funding mechanism to purchase foreclosed homes or properties that have been abandoned in order to sell, rent or redevelop them.
The grant also allows the county to establish a land bank for the foreclosed homes, demolish blighted structures and redevelop the demolished properties.
Dienstbier said only communities that have low to moderate income are allowed to use 10 percent of the grant money to demolish blighted properties. The two communities in the county that meet those requirements are Easton and Linwood. Another option is to use 10 percent of the cost and use it to demolish blighted houses in those towns.
The life of the grant is 18 months. Nine months to commit the fund and another 9 to expend the funds.
The county will also be required to obtain certified independent appraisers and a HUD-certified inspector for this project.
Dienstbier said she and her staff will meet with the planning and zoning departments of different entities in the counties and they will decide what properties will receive the money.
The report submitted by Dunn said there were 204 foreclosures in the county.
Commissioner J.C. Tellefson was hesitant to vote for the grant after Graeber voted against it, but voted for it, saying that if the county didn't get the money another county that wasn't as disciplined as Leavenworth County would get it.