Winning the playground war
Glenwood Ridge receives playground piece after hitting snag with first attempt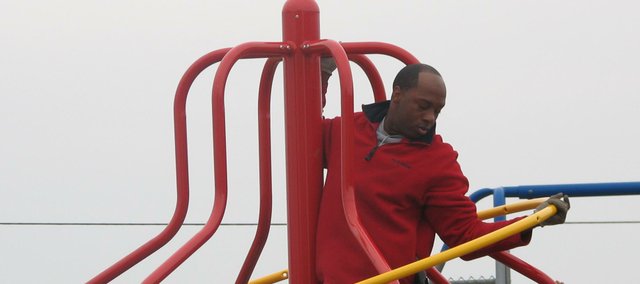 After a long delay and a change of hands, Glenwood Ridge Elementary School finally has its new piece of playground equipment.
Fry and Associates, of Kansas City, Mo., installed a "turbo tower" Monday morning in Glenwood's playground area, and it should be ready for recess climbing this week.
Last spring, the Glenwood Ridge Student Council conducted a lap-a-thon fundraiser to pool money for a new playground piece. The council chose a "Zany Zipper" and placed the order through Contract Connections in Jacksonville, Fla.
The students then waited and waited, with no Zipper in sight.
"We never received the equipment, and the company would not refund the money," Glenwood Ridge principal Jan Hancock said.
The school decided to take action. Hancock said the school contacted KCTV 5 to see if someone at the station could do anything.
"(KCTV 5) contacted their affiliate in Jacksonville, who investigated the story and ran a news clip regarding the incident," Hancock said. "KCTV 5 also ran the story."
After the news aired, Hancock said, the company refunded Glenwood Ridge's money. The school won a battle, but it still was without the needed equipment. That's when Precision Playgrounds, also in Jacksonville, got involved.
Owner Scott Craft donated $1,000 to Glenwood Ridge and sent a catalog with Precision's available playground additions.
"The student council used the refunded money along with (Craft's) donation and selected a 'turbo tower' to replace the Zany Zipper," Hancock said.
Craft offered to fly his crew to Kansas for the installation of the tower, but Fry and Associates stepped in and donated time and labor to get the job done.
Monday morning brought relief and a surprise for the school. Craft arrived on site from Florida to make sure the task was completed.
"We didn't even know he was coming," Basehor-Linwood Superintendent Robert Albers said. "He came all the way here to supervise."
To Craft, the trip was the last way he could ensure that Glenwood got its well-deserved playground.
"I just wanted to be positive that the job was done right," Craft said. "I knew they'd do a good job, and I'm so glad that Fry donated the time, but I just wanted to be here in person."
Precision Playground's donation was necessary, Craft said. He saw a need, and he filled it.
"I did this because, if I hadn't, they still wouldn't have a completed playground," he said. "They'd been waiting for about a year, and it was way past time to give this to them. I was happy to do it."
Hancock said Steve Mull of Childforms in North Carolina had also donated a "fun hoop" and climbing wall to the school, which will be installed at a later date.
"We appreciate the support and kindness of those who helped us," Hancock said. "A bad situation was turned into a positive experience."