BSHS

senior Sullivan honored by

NAIA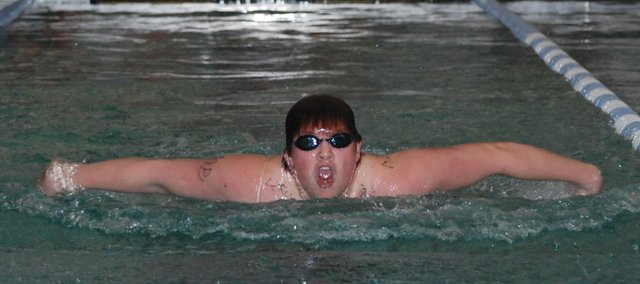 Bonner Springs senior Alex Sullivan was one of more than 50 Kansas City metro area high school student athletes presented last month with a Champions of Character High School award from the National Association of Intercollegiate Athletics.
Sullivan received the award for his actions as a member of the Bonner Springs boys swimming team and for the example he set as a teammate and student-athlete.
According to the NAIA, "the award is presented annually to area students who exemplify Champions of Character values both in and out of competition. The 2009 award winners were chosen from a list of nominees who clearly demonstrate in everyday decisions respect, responsibility, integrity, servant leadership and sportsmanship."
The award was well deserved, according to BSHS swimming coach Lynn LaNoue, who said Sullivan fit the criteria for the award.
"I am very pleased Alex was recognized with the NAIA Champions of Character Award," LaNoue said. "He is deserving of this honor. He led by example, he put his team first and he always faces adversity with humor and poise."
Sullivan earned notoriety this season when he became the first BSHS swimmer in school history to achieve "Ironman" status by competing in all 12 races in the same meet. When not competing himself, Sullivan always supports his teammates, LaNoue said.
This is the seventh year the award has been given. The ceremony took place at halftime of the Buffalo Funds NAIA Division I men's basketball national championship semifinal. It was one of many Champions of Character activities scheduled during the weeklong event, and many point to it as being a highlight of the week.
The student athletes were greeted at center court by John Kornitzer, Founder of Buffalo Funds, and Jim Carr, NAIA President and CEO, and given a Champions of Character certificate.
"I was surprised when LaNoue sprung it on me that I had been nominated," Sullivan said. "It was a really nice environment, and there were a lot of nice people. Overall, it was pretty cool.
"My parents were surprised and happy for me, but most of all they were proud of their son. It showed me that all of the hard work I've put in actually counts."