Candidate's focus on college prep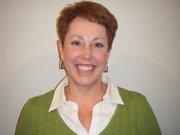 Basehor-Linwood School Board candidate Wynne Coleman has played many roles in the school district, and running for the board is the next challenge she is taking.
"It's just the next logical step for me," Coleman said.
Coleman is currently the receptionist at Basehor-Linwood High School. She and her family moved to Basehor in 2005, and since then she has been active in the Basehor-Linwood School District.
Coleman has been involved in the Basehor Elementary Site Council, Youthfriends, the Basehor-Linwood Education Foundation, the bond planning committee and the bond campaign steering committee. She has also served as a bond campaign chairperson. Her two daughters, Gabby and Catie, attend Basehor Elementary School and frequently tag along with her to various district functions.
If elected to the school board, Coleman said she wanted to make sure that graduating seniors were completely prepared for college.
"It's so important for our high school students to be ready for four-year or two-year colleges," she said. "We have to take the necessary steps to make a good transition from high school to college."
The board will be dealing with budget cuts for a while, and Coleman wants that process to be completely exposed to the public.
"As board members, we need to make our actions with the budget and everything as transparent as we can," she said. "There will be cuts no matter what, and I want the community to understand the work and planning that went into the cuts and why we think those cuts are the most fair."
Coleman said her past experiences had prepared her for this role, and she felt she was ready to run for the board of education.
"I'm in a position now where I feel like I have a voice, and I can represent the community well," she said. "I have been so involved, and I feel like people know that. I feel like this is a good time for me to do this."
Throughout her time in Basehor, Coleman has seen some incredible things, she said, and she wants to continue the positive trend that the district has started.
"The school district has grown into a tighter unit," she said. "Some amazing things have happened here, and I am thrilled to have the opportunity to be part of that."
Coleman said if she was elected, she had no doubt the position would be difficult at times, but she was nevertheless looking forward to the task.
"It's going to be a challenge," she said. "That I can be sure of. But it will also be exciting, and I am so excited to have the chance to do it."
The general election is April 7.