Roving Imp Theater turns two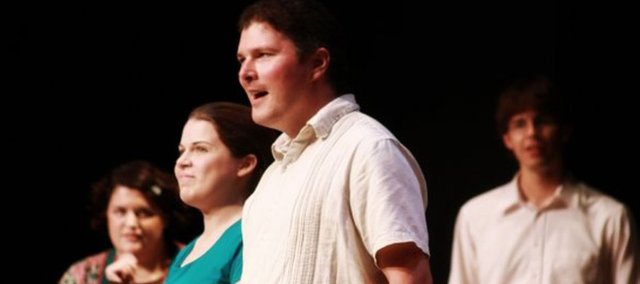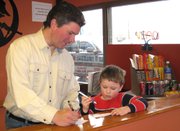 Opening an improvisational theater in Bonner Springs was certainly a risk, but it wasn't one the owner was too worried about.
"If I was expecting to fail, I wouldn't have done it," owner John Robison said of opening the Roving Imp Theater, 115 Oak St. "It's the town that has the Renaissance Festival for God sakes."
Robison opened the theater exactly two years ago next Tuesday, April 7, and he said business was slow at first but has definitely started to gain ground.
"We started out really slowly," Robison said. "And we still have really slow weekends. We also have weekends that sell out."
Years before opening the Roving Imp, Robison was a journalism major at the University of Kansas, where he worked for the college radio and TV stations and also wrote articles for the Chieftain. He said he has also been heavily involved in theater throughout his life and improvisation, which he has been studying seriously for the last four years, has just been a natural extension of that involvement.
"After doing theater for so long, improv was very appealing because there were no lines to memorize," Robison said. "It helps you to think quickly and be funny off the cuff. And there are no royalties to pay. You can do a different show every night."
The Roving Imp Theater has improv shows about every Friday and Saturday, and even some Thursdays. Much of the subject matter revolves around popular books and movies, and Robison is a regular performer in these shows, but he also has help from performers in Lawrence and throughout the Kansas City metro area.
Robinson frequently allows audience members to take the spotlight, as well, by asking them to come up onstage and participate in the performance. But he would like to make it clear that audience participation is strictly on a voluntary basis.
"More people are terrified of performing onstage than of dying," Robison said with a laugh. "That's the one thing that keeps people away, and it is a myth. We don't pull anybody onstage that doesn't want to come."
While he misses the writing aspect of journalism — Robison refers to improv as "anti-writing" — he said he couldn't ask for a better career than running a theater and being able to perform every weekend.
"Oh my gosh, it's great," Robison said. "I could not have a better life, doing this kind of performance as a job."
Robison said his improv theater, which is the only one of its kind in the metro area, draws people from all over Kansas City as well as, more recently, Bonner Springs. He said he has even had some international visitors, from Sweden, Germany and Russia.
It is this growing interest in the Roving Imp that makes him feel confident he and his theater will stick around for awhile.
"If we keep getting people coming in, there's absolutely no reason to leave," Robison said.
To commemorate the second anniversary of the Roving Imp Theater, Robison will play host to a Second Anniversary Spectacular at 7 p.m. Saturday, April 4. Improv will revolve around the Indiana Jones movies "Raiders of the Lost Ark" and "Indiana Jones and the Temple of Doom." Following that at 9 p.m. will be Trivial Prov-Suit.
Tickets for both shows are $7. For more information, contact the Roving Imp Theater at (913) 441-2309.