Train whistles through region with safety message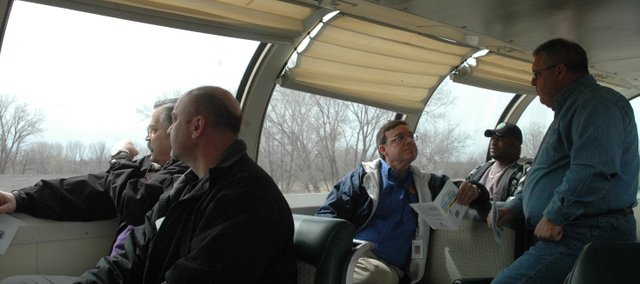 A Union Pacific train chugging along the track isn't that rare of a sight in Bonner Springs and Edwardsville, but one offering safety tips is.
Last week, from March 23 to March 27, the Operation Lifesaver train made stops in several Kansas cities, including Lawrence, Bonner Springs and Topeka. Operation Lifesaver, established in 1972, is an international nonprofit organization devoted to the promotion of train safety. Operation Lifesaver programs are usually ran the normal way in non-moving conditions, but Union Pacific engineer and Operation Lifesaver presenter Jim Massey said the organization takes to the tracks, at least in Kansas, about every five years.
"I compare us a lot to a traveling preacher," Massey said during the ride. "If I can get a group to sit down long enough, I will talk to them about railroad safety."
City leaders and law enforcement officers in the area were invited to take the Bonner Springs safety train ride, which departed at around 1 p.m. Thursday. During the hour-long ride covering a 20-mile stretch of land throughout Bonner Springs and Edwardsville, Massey gave safety tips and shared accident statistics.
The following is a list of statistics Massey shared with the group.
• Most collisions between a train and a vehicle occur when a train is traveling under 30 miles per hour.
• 64 percent of all collisions occur in daylight hours.
• Most collisions occur within 25 miles of the driver's home.
• At 55 miles per hour, an average train speed, a train may take up to a mile or more to stop.
• Nearly 50 percent of all collisions occur at crossings equipped with automatic warning devices.
• A person is 20 times more likely to die from a train collision than from one involving another motor vehicle.
Massey shared several safety tips as well, including the three actions a driver should never take when crossing a train track: Don't stop, don't pass and don't shift. He said to always look both ways before crossing, especially in those situations where there are multiple train tracks. Trains are much quieter than they used to be and can, as Massey put it, "sneak up on you."
"Don't commit unless you'll fit," he said.
Massey said if a driver does get stopped on a track, the best reaction is to get out of the car and go toward the train but at a 45-degree angle. This will prevent any debris from the collision between the car and train hitting the person. He said the average coal train is around 7,000 feet long and weighs around 12 million pounds so, no matter how fast the train is going, a collision can be devastating to a vehicle and anyone inside it.
"A lot of these collisions are so catastrophic because of the mass and weight of the train," Massey said.
If there is time, the driver stopped on a train track also has the option of calling the emergency notification number, posted on the crossbuck yield sign at any railroad crossing. A message is then relayed to the engineer of the train, who can stop the train before any collision occurs.
Massey also warned that tickets issued for train-related offenses, such as failing to yield the right of way to the train, have doubled, putting an average fine in the $500 or more range. But he said safety was the main concern of Operation Lifesaver and the main reason for hosting events like the safety train.
"Everybody walks away with a little piece of information that helps them out," Massey said.