Bobcat runners make a splash at Baldwin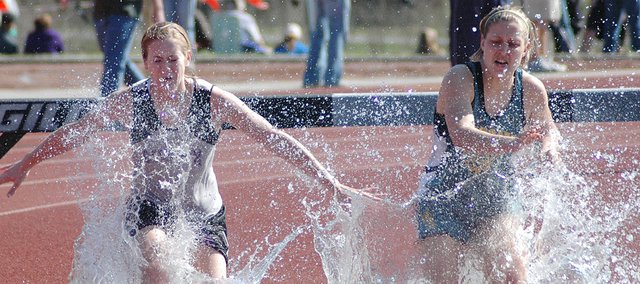 A freshman led the Bobcats in the inaugural race of the season.
Dakkota Edmonds won two events and led the Basehor-Linwood girls track and field team to a 10th-place finish at the Baldwin Invitational on Friday.
"She did really well, she surprised me," coach Jared Fuhrman said. "She is faster than I thought she was."
Edmonds placed first in the 100 with a time of 12.98 seconds and was first in the 200 with a time of 27.3.
"Winning both of those events as a freshman at the Baldwin meet is pretty impressive," Fuhrman said. "I think if she continues to work hard, she going to be a good runner for me."
Shelby Equals made the finals in the 200 and finished eighth with a time of 29.13. Kayla Peterson placed sixth in the 3,200 with a time of 13:15.82. She placed fourth in the 2,000-meter steeplechase with a time of 8:55.34.
Basehor-Linwood also placed fifth in the 400-meter relay. Taylor Johnson, Edmonds, Baily Kraus and Shelby Equels ran legs in the race.
In boys competition, Daniel Prioleau placed fifth in the 100 with a time of 11.44. He placed eighth in the 200 with a time of 24.2.
"He is a sophomore and ran really well," Fuhrman said.
The first-year coach also was pleased with the performance of his distance runners. Brady Blackwood, Mitchell Cook and Mike Torrez all placed in the top half of the 1,600, which had unlimited entries into it and featured top distance schools such as Baldwin and Lansing.
In the 3,200, Bryce Garber and Wyatt Kelly also improved their times over the meet last season.
In field events, Bobby Courtney placed fourth in the high jump, clearing 5-foot-10.
He placed ninth in the long jump and was eighth in the triple jump.
Brian Pemberton placed sixth in the pole vault, clearing 9-6.
"Those boys and girls, is probably toughest meet they go to all year," Furhman said. "The kids have responded really well. Overall I was pretty happy, considering so many young kids are on the team. You worry taking kids to big meets and coming back discouraged, because they thought they did not do so well. I don't think kids felt like that. They felt like they ran hard and accomplished some things. They want to continue to get better and improve."
Improvement and qualifying for state are the goals this season for the Bobcats.
"I told the kids at the beginning of the year, we don't have a kid that has ever been to the state track meet," he said. "I have been every year and don't realize how cool that it is down there. My goal for them is, I would like to get five or six of them to state this year. With the potential we have, I think we can get that done this year if we keep working."
Basehor-Linwood plays host to the Bobcat Relays today. Field events begin at 4 p.m. and finals of running events are expected to start at 6:15 p.m.
One change to the meet is that the throwers relay is being replaced by a sprinters relay.
"With the teams we are competing against, there should be good competition there," Fuhrman said. "Hopefully rain stays away."