De Soto shuts out
BLHS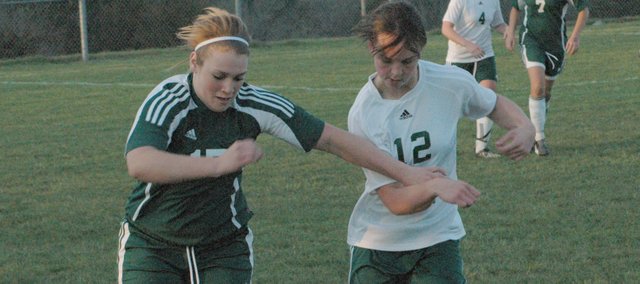 De Soto — The final score could have been more lopsided had goalkeeper Carol Smith not made several nice saves.
Facing a much faster De Soto team, Basehor-Linwood was overmatched and lost, 8-0, Wednesday at De Soto.
"She's just a great player," BLHS coach Jaclyn Naster said of Smith. "She's strong, and she understands the game and she's tough as nails. She saves us and does a great job out there. We really appreciate everything she does."
De Soto controlled the contest throughout and scored five goals in the first half and three more in the second half. De Soto's Danielle Price scored five goals, and Carly Stanley scored the other three for De Soto. The home Wildcats put up 38 total shots and Basehor managed just one shot attempt.
"They're a great team," Naster said of De Soto. "They have good forwards and move the ball very, very well. We did our best to keep up with them, which I think we did sometimes."
Despite the final score, Naster said she still had a positive outlook for the still young season.
"The most important thing for me is that they keep a positive attitude," Naster said. "It's the beginning of the season and we're just learning how to work together as a team."