Terry Hill takes mayoral race by 27 votes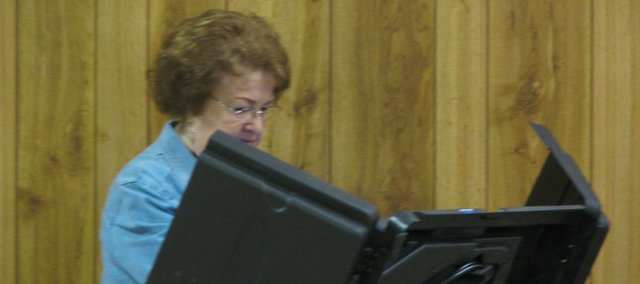 Shortly after 9 p.m. on Tuesday night, Basehor received word about its new mayor and two new city council members.
The results were totaled, and with 247 votes, Basehor City Council member Terry Hill won the mayoral election. Opposing mayoral candidate and city council president Iris Dysart received 220 votes.
Candidates Dennis Mertz and David Breuer were elected to the city council, replacing current members Roger McDowell and Keith Sifford. Both Mertz, JED Installation partner, and Breuer, K.C. Construction owner, ran unopposed in the election.
Hill, information technology director at CompResults in Fairway, said he didn't want to commence the celebration quite yet, as the election results will not be official until the county commissioners complete their canvass of votes at 9 a.m. Friday.
Hill wanted to thank his supporters for all their hard work and reiterate that it was his goal to bring the people of Basehor together.
"I want the two groups in Basehor to work with each other," Hill said. "The group that supports downtown growth and the group that supports outlying growth, I want to send everyone the message that we're going to grow together. Downtown projects will be supported, as will projects in outlying communities."
The election results brought disappointment to Dysart, but she said she would support Hill anyway she could.
"Of course, I'm disappointed," Dysart said. "I wanted this badly, but he's our mayor now, and I will work with him to the best of my ability. I wish him the best of luck."
The support she received throughout her campaign was tremendous, Dysart said, and she is grateful to all those who helped.
"Everyone was so good to me," she said. "All my friends really rallied around me and spent a lot of time helping and bolstering my spirits. I appreciated that a lot, and I'm thankful to all of them."
Dysart will remain in her position on the city council, and she is looking forward to her future as a council member.
"I have enjoyed this so much during the last six years," she said. "It's a full-time job, but I love doing it."
The Leavenworth County Clerk's office reported voter turnout was lower in this election than in the last election. In 2007, 459 people voted out of 2,192 registered voters in the city of Basehor, which is a voter turnout of about 20 percent.
This year, 476 Basehor residents made it to the polls out of 2,678 registered voters, which is a vote turnout of about 17 percent.
Hill will be sworn into office on April 20. Mertz and Breuer will also be sworn in during the city council meeting that evening.