Re-elected officials happy despite low voter turnout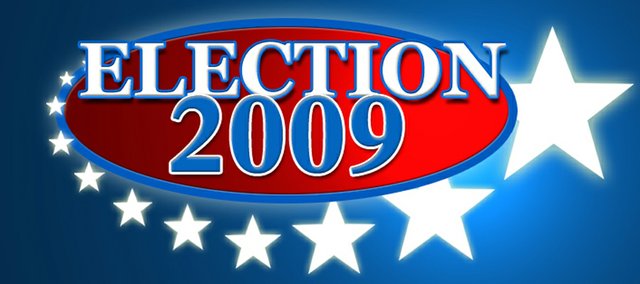 Five months after a historic election, Leavenworth County voters were once again asked to flex their democratic muscle.
On Friday, the Board of Canvassers met to verify the result of the April 7 election.
Of the 43,610 registered voters in the county, 5,540 cast a ballot for local government leaders and school board leaders. This was down from the 73.1 percent of voters (30,856 people) who voted on Nov. 4 elections.
Janet Klasinski, who took office as the Leavenworth County Clerk in January, said this election ran smoothly, but turnout was lower than she expected.
"I think by not having a lot of oppositions for some of the school board seats it brought the totals down," she said. "I would have liked to have seen 17 to 20 percent."
She said in one precinct only eight voters cast their ballots.
While voter turnout wasn't high, emotions ran high for the candidates that won re-election.
Incumbents Jim Truesdell and Jason Ward will return to their seats on the Tonganoxie City Council.
"I would like to thank my supporters and the voters for having the confidence in me to help lead the city through these challenging times," Truesdell said. "I look forward to the next four years. I am glad that people did get out and vote because they realize the impact that local government has on the quality of life, taxes and the decisions that affect their daily lives. City Council meetings are the first and third Mondays of the month, come and get involved. I look forward to working together to make Tonganoxie a great place to call home."
Ward had a similar response to his re-election.
"I am very pleased to have the opportunity to serve our community for another four years," he said. "I have invested a substantial amount of time in ongoing projects and am happy that I can continue that work. I would like to encourage citizens to become more involved in community projects. We have many items to address and need the support of everyone to reach our community goals."
With 257 votes, Lake Quivira police chief and Tonganoxie resident Burdel Welsh won the third seat, which will be vacated by two-term councilmember Steve Gumm.
"I am very pleased to have won and I am grateful to the people of Tonganoxie
who supported me throughout the campaign and voted for me in the election," Welsh said. "I look forward to working with the council in the future."
There were a few surprises in the Linwood races.
With no one filing for the position of Linwood City mayor, Edward Morris received five out of 24 write-in votes, making him the mayor.
Klasinski said that she had made contact with Morris, who said he would accept the position. Had he not taken the position, Arline Pritchard would have been next in line with four write-in votes.
Linwood residents also wrote in Henry Biera to the council seat with seven out of 20 write-in votes.
Klasinski said she has not been able to confirm if Biera will accept the position. If he does not, either Tina Moore, Dale Eisman or John Eisman will be chosen for the position. Each of those Linwood residents received two write-in votes. Edward Morris also received two write-in votes, but is no longer eligible because he accepted the position as mayor.
Klasinski said if Biera declines, she will draw the names of the remaining candidates out of a hat. She said she will invite the candidates to attend the drawing.