Eberth Field makes grand opening at
BLHS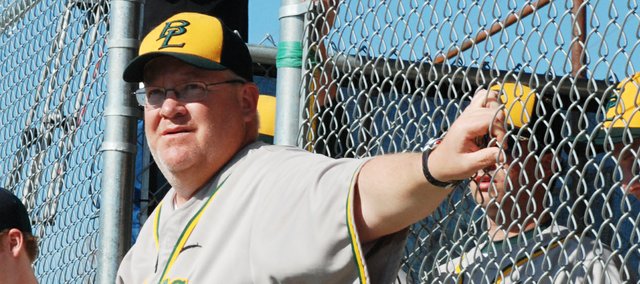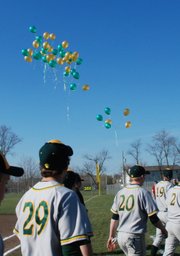 Basehor-Linwood baseball coach Dave Svoboda sat in the dugout with his fellow coaches following a 12-0 loss to Tonganoxie on Wednesday, April 8.
Pitcher Justin Gripka had thrown well in allowing five earned runs.
The Bobcats just didn't muster much offense.
"It is a growth experience," Svoboda said. "I really think that our kids were beaten by a better team that day. We really kind of got caught up in the hoopla of the first game. We were not as good from the first to last pitch as Tonganoxie was."
Perhaps there was good reason to get caught up in the hoopla.
For the first time since 1999 when girls basketball coach Noah Simpson was a high school student, Basehor-Linwood played a true home game.
After that season, the Bobcats played seven seasons at the Field of Dreams complex. The last two years they played at Mid-America Baseball Complex in Shawnee. The Shawnee venue was 20 minutes from Basehor-Linwood High School. The Bobcats played high school teams that attended classes closer to the complex than they were.
Those days are over now, and a cast of Basehor-Linwood dignitaries, students and teachers descended on Eberth Field for the first game.
School board members, assistant superintendents and high school athletics director Joe Keeler threw out first pitches. They also received discount cards to local businesses and other gifts.
Steve Miles, from Miles Excavating, who helped lead the project, also was there to be honored and throw out a first pitch among other business community leaders.
The Basehor-Linwood VFW presented the colors for the game.
Jessica Farris, a BLHS student, sang the national anthem.
Balloons were released before the game.
"It is nice to have a place to call home," Svoboda said. "We knew we needed to take the next step, and a lot of hard work of a lot of people (was required for this) to take place. We were able to honor 15 to 20 people we felt like needed to be honored."
He also took time to think about what it all meant to the program.
"No question, this is not about me," Svoboda said. "Yet, being able to be the coach that was there with our kids on the day we were able to bring it back to campus was very gratifying."
He is pleased for the team's seniors who have played games at three different venues.
He is excited about what the program can become with its own home field.
Svoboda envisions high school students coming out to watch games after school. He envisions the student body supporting the program like other teams in the school.
On Wednesday, students showed up to watch the players christen the new stadium. Players who were part of the Class 4A boys basketball state championship team were there. Girls basketball players and football players also were in the crowd. It was nice to see them supporting the baseball team, Svoboda said.
"Easily we had three times as many students as we've had at a game since I have been there," he said.
He also likes what the new facility does for his program. Batting cages are available to take swings in. In addition to games, the practice facilities have improved.
"Having a field gives us so many advantages that can help us now and down the road," he said. "I am pleased with what we have now, (and what we'll have in) five or six years with the addition of some things."
The new field is the first step.
In the next few years, BLHS hopes to add additional permanent seating and lights. The grass also will improve as it continues to be watered and matured. They want to add an electrical scoreboard, but are discussing the idea of creating an old-school scoreboard with hanging numbers.
Those plans likely will be a part of future capital outlay projects. For now, there are other pressing needs for the district.
Svoboda, though, is pleased with the progress being made.
"I am more than happy to play at 3 p.m. because of no lights, and tell the opposing teams to bring chairs in because there aren't any bleachers," he said. "We have the big stuff now we need to be able to play. It is nice to be able to go outside the back door, hop in the cage, take some swings, run down the hill and we can play."
Yes, the Basehor-Linwood program is settling into a new home. When the coaches were finished speaking after Wednesday's game, they walked to their cars and drove home, leaving their new ball park in the distance.
"I always fancied myself a program builder, but one person having a vision doesn't mean much if there's not hundreds of people behind the scenes getting things done, having people see what I saw, people with far more money, talent and time and gifts to pull together. I've been in the right place at the right time," Svoboda said. "This is a neat situation, and we're fortunate to have community support we do. Mike McBride had a lot do in basketball and the community has bought in. The community bought in with football. The people of this district aren't people who talk about what they want to get done, but they're will put time and energy into getting it done."