Magic 8th: Bobcats storm past
THS

in extra inning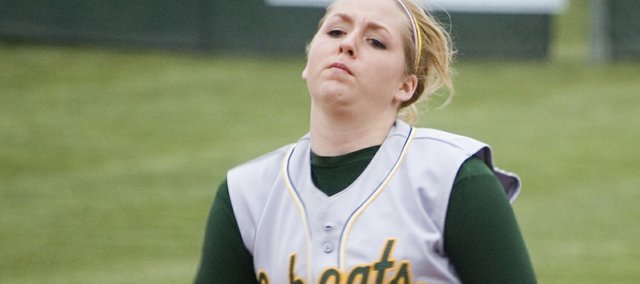 Basehor-Linwood softball players stepped up their performances in extra innings on Thursday.
After seven tightly contested innings, the Bobcats blew the game open in the first and only extra frame for an 8-2 victory.
Basehor-Linwood scored six runs in the inning, spoiling the Chieftains' season-opener. Clutch hitting was key for the Bobcats in the inning.
"Getting runners on base like we had been doing, but being able to hit the gaps because we took swings at much better pitches," coach Susan Mayberry said.
When the scoring was complete, the Bobcats had plated six runs and taken control of the game.
"They played very well, focused on their jobs and played their ball game," Mayberry said. "Our girls are very well rounded and mature, so when we went into extra innings, they knew what needed to be done and played well."
Now, Mayberry said she just wants the bats to come alive sooner.
"I think that if our hitting starts sooner in the innings that we will have a pretty tough team," she said. "Our defense seems to be improving, and I think that our hitting needs to come around a little more and our team will make things happen."
For seven innings, runs were at a minimum as the two teams attempted to figure out the opposing pitcher.
"Shelby Pierce did pretty well, considering the poor weather conditions," Mayberry said. "She was hitting her locations, which was key, considering Tonganoxie was hitting the ball pretty well."
She also said the victory was a team effort.
Trailing 1-0 in the bottom of the second with two outs, freshman second baseman Brooklyn Kerbaugh hustled out an infield single to spark a mini-rally. Senior right fielder Emily Gripka kept things alive with a single to left, and sophomore Tiffany Jacobs drove in Kerbaugh with a base hit to center that tied the game.
The Chieftains were able to take a brief lead in the third. With one down, sophomore Kaitlyn Wolken tripled, and clean-up hitter Alisha Barnes drove her in on a groundout to give Tonganoxie a 2-1 lead.
But BLHS answered with a run in the top of the fourth and held THS scoreless the rest of the way.
"Every girl stayed grounded and focused on their job, to stop every ball and keep Tongie from scoring," Mayberry said. "In the end, we did well on producing hits and scoring a few extra runs off errors."
Junior Tonganoxie pitcher Angela Jacobs started and gave the team seven solid innings of work before tiring some in the eighth and running into trouble.
In her first varsity start, the right-hander repeatedly pitched her way out of jams to keep Tonganoxie in the low-scoring game. With two BLHS runners on and no outs in the third, she retired three straight batters. After allowing a leadoff double in the sixth, Jacobs forced two groundouts and a pop-up. In the seventh, with runners on first and second and one out, the Chieftains got a force at second on a single to right field. After Jacobs walked the next batter to load the bases, she ended the inning with a fly to center field.
The teams were scheduled to play a doubleheader, but just as the first inning got under way in game two, lightning and rain rolled in, and the second game was called off. The game will be played at a later date.