Poets express art of written word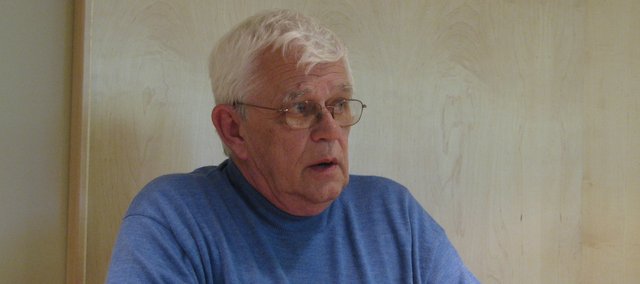 Local poets and poetry lovers had an evening to themselves Tuesday at the Basehor Community Library.
All poetry enthusiasts were invited to the library to read and listen to selected pieces. Audience members were welcome to share their own work during the open mic portion of the evening, followed by readings from featured poet David Anstaett.
The first poet who stepped up was one of the winners of the Friends of the Library writing contest, Mitchell Brock. Brock read what he wrote about his sports team.
Next was Loren Chenoweth, who recited several of his own poems from memory. Chenoweth said he drew inspiration for his poetry from everyday occurrences.
"I write about the ordinary things in life," he said as he shared a rhyming work called "Paying Bills and Taking Pills."
Angela Davis, a student at Immaculata High School in Leavenworth, read one of her poems about overcoming anger.
"There's really no story behind it," she said. "I just wrote it one day when I was pretty upset."
After open mic, Anstaett talked to visitors about some of his own experiences with poetry and read a few poems from "Tattoo Chronicles," a working book full of descriptions of the many tattoos he saw while he was in the Navy.
Anstaett, who teaches poetry at the middle school level, said he worked with more than 500 students who were able to get their work published.
"I have three books published and two in the works, but it's not about me," he said. "It's not about getting me published again. It's about getting my students published."
Having work published is no easy task, Anstaett said. More than 80 of Anstaett's poems were rejected by publishers before one made it into print.
"It takes a while, but you can't give up," he said.
One of the unique things about poetry, Anstaett said, is the possibility for millions of pieces to be written about the same subject.
"None of us ever sees the same thing as someone else," he said. "We think we do, but we don't. Just look at love. Poets have been writing about it for years, but it's so individual. No two people love the same way or experience love the same way, so no two love poems will be exactly the same."
Along the lines of love, Anstaett said superior poetry started with intense emotions.
"As a poet or writer, you have to dig deep enough to pull out the things that scare you, and you have to care enough to dig that deep," he said. "If you don't, you're just scratching the surface of poetry. Great poetry comes from the things you may not necessarily want to share."
Anstaett encouraged everyone present to keep writing and continue participating in poetry readings.
For more information about events at the Basehor Community Library, visit the library's Web site at basehorlibrary.org, or call (913) 724-2828.