Tonganoxie spoils Basehor's stadium opener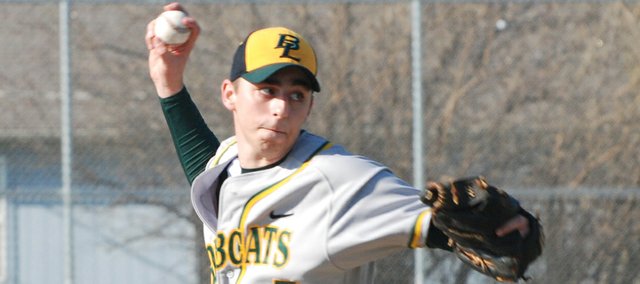 Basehor-Linwood dropped its season opener to Tonganoxie on Wednesday.
Justin Gripka allowed five runs and took the loss in the debut game at Eberth Field, Basehor's new home field.
"I thought Justin Gripka pitched well enough to be competitive," he said. "He gave us a chance to compete, but we can't make the number of errors that we did."
Gripka pitched six innings but received minimal offensive support.
"We should have been more competitive," Svoboda said. "We have some players capable of playing better than what we did. It's a growth opportunity, a learning opportunity, and hopefully there's some newfound humility, and our players realize you can't throw the glove out and expect to be good. We have to be focused from pitch one to the final out."
THS (5-0) had 13 hits on its way to scoring 12 runs. Seven Chieftains recorded hits, and six of them had two hits.
Ethan Lorance was 2-for-5 with two runs and an RBI, Jon Harris went 2-for-3 with two RBI, Jace Waters was 2-for-3 and scored twice, Tyler Lupton went 2-for-4 with three RBI and a run, Blaize Oelschlaeger was 2-for-4 and scored twice and Brandon Yoder went 2-for-4 with three RBI, two doubles and a run scored.
Waters pitched six innings and earned the victory for the Chieftains.