BOCC

to finalize contract with planner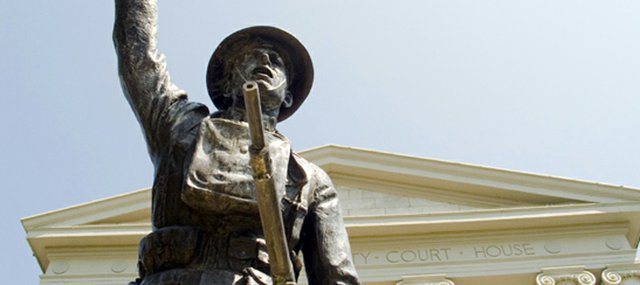 While all of the Leavenworth County Board of Commissioners agree that they want to see planned commercial, industrial and residential development along County Road 1, they don't completely agree on which parts of the plan need to be outsourced and how much it's going to cost.
On Monday the board voted, 2-1, to have Heather Morgan, Leavenworth County Administrator, and Jeff Joseph, director of the county's planning and zoning department, finalize the scope of work and price tag to have RED Development, in conjunction with Ochsner Hare and Hare and Integra Realty Resource, develop a long-term plan for developing the road.
Commissioner Clyde Graeber, who was the dissenting vote, said he couldn't support spending the estimated $100,000 for RED's services with the current state of the economy and the uncertainty of who along the corridor will be open to development. Commissioners have previously stated that they are not going to force any resident along CR1 to develop their land if they chose not to.
"At this time to put forth and commit $100,000, at this time when there are people out there that have stated that they are not going to develop their land or allow it to happen … it would be a hodgepodge, it would be like a checkerboard where all of these would be red and all of these would be black. It just doesn't make sense to me," Graeber said.
The county started negotiations with RED after it put out a request for qualifications to see what kind of things big commercial development planners could do to help growth in the area.
Soon after all of the qualifications were received, the county planners and members of an ad hoc committee that is negotiating the interlocal agreement between the county and the City of Tonganoxie interviewed some of the firms. RED Development piqued the interest of county leaders and the developer was soon asked to negotiate with the county on a contract.
Graeber asked Joseph why his department couldn't handle the task of planning growth along the corridor, but Joseph replied that the type of work needed was beyond what he was capable of doing with his staff.
"They have experts in real estate and have expertise in market analysis and expertise in what businesses can go in there," Joseph said.
He also said that the other two firms working with RED have many in-house experts in development and "as a team working together, I think they can do a much better job than anybody else."
Commissioner J.C. Tellefson said the work was also beyond the scope of Tonganoxie's planning firm, Bucher Willis and Ratliff, which did not bid on project.
Commissioner John Flower told Graeber that the contract with RED was just the beginning of the longterm plans for the corridor and it may take several years, but the county will see the benefits.
"The thing I think we need to keep in mind is that development of this size along County Road 1 from K32 to Tongie will take 20, 30, 40 years to build," Flower said. "It's not going to be tomorrow all of a sudden stuff is going to come up out there."
Morgan and Joseph will finalize negotiations and price before the board agrees to enter into a contract.
Tellefson said that Tonganoxie has said it would pay for half of the cost of the development consultant, but those terms have not been negotiated.
Morgan said she would look to see if the county could use the $68,000 in the planning department's budget that was going to be used for a code enforcement to help pay for the study.