Basehor-Linwood Bobcats to visit governor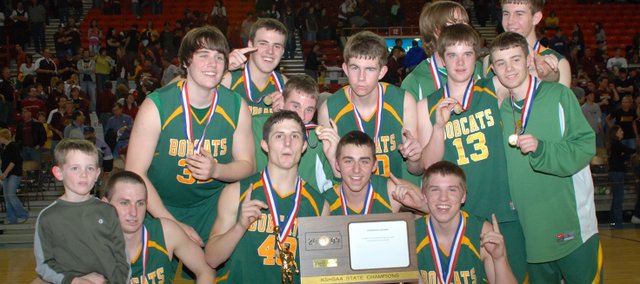 Celebration of the Basehor-Linwood boys basketball state championship hasn't stopped yet.
On Wednesday, April 29, the team members will travel to Topeka to meet with Gov. Kathleen Sebelius. The governor scheduled the meeting to personally congratulate the basketball team on its Class 4A championship performance.
Not only will the boys meet the governor that day, at 10 a.m., they will also be recognized as state champions by Kansas state senators while they stand on the Senate floor.
Boys basketball coach Mike McBride said he was looking forward to the trip.
"We've attended a lot of events lately, and I am just as excited about this trip, if not more excited about it, than anything else," McBride said.
After standing before the Senate, the team will take a tour of the capitol building. McBride said he expected the trip to be memorable both because of the thrill of recognition and the information the team will learn.
"It will be really fun for the guys to be part of something they've never been a part of," he said. "They will get to see the capitol building and learn a few things. From an educational standpoint, it's really exciting."
The team members return to Basehor that afternoon, and they will make one more stop at Kelley's Grill and Bar, 15540 State Ave., where, on this day, their lunches are on the house.
Kelley's Grill and Bar owner Bill Buchholz said he wanted to provide lunch for the players as a tribute to the team and to Basehor.
"This is our way of supporting the boys basketball team, the high school and the community," Buchholz said. "We're glad to do it."