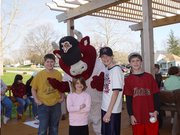 Last Saturday, there was a big doings at the Lansing Museum. In spite of it being a rainy morning, things moved to the inside and everything went on as planned. It was a combined effort of artistic demonstrations of local artists.
The first demonstration was painting by Bullet, a dog from the Safe Harbor Organization at the Lansing Correctional Facility. They put paint on his paws in different colors and had him walk around on big pieces of paper, six in all. They turned out very colorful, and naturally Bullet got a lot of attention and couldn't get enough petting.
Then Kim Turner, our Lansing librarian, was there to work with a group of children doing colorful art crafts. After that, three lovely ladies from the Carnegie Art Center in Leavenworth demonstrated making pottery using a potter's wheel. That attracted a lot of attention. This went on for several hours and some neat bowls, etc., were turned out. At the same time I was in the other room painting a landscape in oil. It was fun but I would rather have been on the outside deck.
At 2 p.m. Erika Nelson from Lucas was there to give a slide show and talk about the "World's Largest Things." This was a fast paced program with Erika telling us about each picture while touring the country recording the largest attractions. This is something we don't usually think about when traveling unless we see a sign telling about "Stop to See thee World's Largest Ball of Twine," or the world's biggest well, or the world's largest egg. Naturally you have to stop in town and take a look.
Nelson was formerly in network broadcasting, is now an artist, curator, speaker and educator that has exhibited her work nationwide and is in collections worldwide. Erika was sponsored by Kansas Humanities Council and does a lot of traveling in her colorful hand painted bus. To learn more about this program go to www.worldslargestthings.com
It is great to have our museum with a large deck that is available to us. Earlier in the week, it was used for a baseball card party for the children put on by the library and museum. It was a lovely day and the kids had a great time. Even Sizzle from the T-Bones stopped by and that was a great treat. Here is a picture of some children with the guest of honor. Thanks Laura and Kim.