BLHS

topples Piper, Perry
After slow start to season, Bobcats on 3-game streak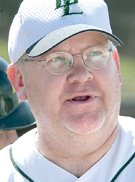 Ryan Lawless did it all for the Basehor-Linwood baseball team on Monday in an 11-1 victory against Perry-Lecompton.
Lawless pitched seven innings, striking out eight hitters and walking four. He allowed just two hits.
At the plate, Lawless had a home run and a double to support his own effort.
Basehor-Linwood had 12 hits in the game. The Bobcats had seven of them go for extra bases.
As a whole, it was a performance BLHS coach Dave Svoboda was thrilled with.
"We left 12 runners on base and had more opportunities to produce runs than what we did," Svoboda said. "Anytime we can go on road and get good pitching, that is a satisfying. That is three wins in a row."
In addition to the victory against Perry, Basehor-Linwood picked up two victories against Piper on Friday.
BLHS swept Piper — one of the Kaw Valley League's most consistently strong programs — by scores of 2-1 and 8-6.
Tyler Henley started game one and threw five innings of shutout baseball. He didn't allow a hit.
"Tyler Henley is throwing really well right now," Svoboda said.
Justin Gripka entered the game in relief and picked up the save.
Ben Zuk earned the victory on the mound in game two, while Kyle Savner and Gripka provided solid relief. Gripka earned the save in game two, as well.
Basehor-Linwood led 8-1 in the first game, and then allowed Piper to climb back into the game late, Svoboda said. Even though BLHS didn't fully protect its lead, Svoboda said hanging on for the victory was an important step for the program.
The Bobcats are putting things together right now on offense and defense.
"I am excited about the way we have thrown the last three games and with the way we've played defense," Svoboda said. "We committed just two errors in the last three games."
Basehor-Linwood plays Mill Valley at 3 p.m. today. The Jaguars also enter the doubleheader riding a three-game winning streak, having toppled Lansing, Ottawa and Piper during their last three outings.
After playing Mill Valley, BLHS will play Santa Fe Trail on Friday and then play host to Lansing for a doubleheader on Monday.