Bonner murder leaves lasting impression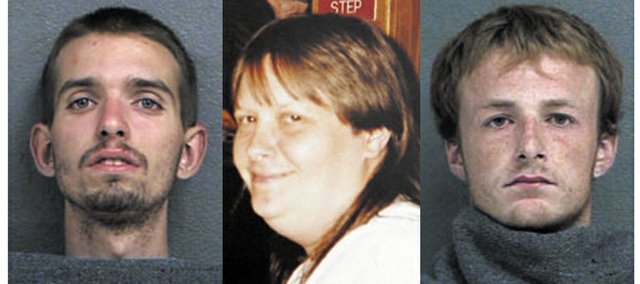 "He even used a broom."
It was those five words that solved the 2005 murder case of Robin Bell at a Bonner Springs Dollar General almost two years after the crime occurred.
Robert Haberlein spoke those words in a slip that would not only put the Kansas City, Kan., resident behind bars for life, but also finally provide closure for the police officers and family who desperately searched for answers.
"It feels really good," said Bonner Springs Detective Vickie Fogarty, who was the lead detective on the case. "I feel like justice was done for Robin, but there's never enough justice."
On March 26, Robert Haberlein and Bonner Springs resident John Backus were sentenced to life in prison for the Nov. 11, 2005, slaying of Robin Bell, a 44-year-old Tonganoxie resident who managed the Dollar General store at 612 130th St., in Bonner Springs. The two men were convicted of three charges — first degree murder, aggravated kidnapping and aggravated robbery.
But it wasn't an easy road to get to the convictions for all those involved.
"I'll be honest, by nearly the two-year mark, and right before we solved it, I didn't think we ever would," Fogarty said of her frustrations during the case.
She said she just couldn't help but get passionately involved. She read and re-read every note taken in the investigation, hoping to find a single detail that would lead to the end. In the process, she canceled two personal vacations because she just couldn't leave the case.
During the whole process, Fogarty guarded the details of the case from the public. She said the crime was so unique and so brutal that inside knowledge became key to solving the case.
"What they did was all done so they wouldn't have any witnesses," she said. "It was so brutal. It was so senseless."
The crack in the case came when Bonner police brought Haberlein in to talk about an unrelated case. She spent the next three hours listening to Haberlein brag about his criminal record. Then he slipped and began telling Fogarty about a homicide in Bonner Springs that his uncle was involved in.
"That's when he said 'He even used a broom,'" Fogarty said. "That's a detail that had never been released. I perked up and just kept letting him talk."
Haberlein dug himself into a deep hole that night and what followed was the unraveling of a plot of robbery.
"This was my 'career case' as they call it," Fogarty said. "It was a team effort. We were all so invested in this case. I just felt like we had to get justice for Robin. She deserved it."
Through it all, Bell's family also dealt with the ups and downs as new leads would come in and go nowhere.
Don Bell, Robin's husband, said the family was frustrated during the process because the police department was giving them so little information.
"At one time, I lost hope," Bell said. "I kind of thought maybe (the police) had given up, but I was wrong. If they had given us more details they wouldn't have caught the guys like they did."
Those details, however, shocked Bell and the rest of the family when they were released at trial. Bell said he couldn't look at the autopsy pictures because it was too hard, and because he wanted to remember Robin the way he last saw her.
Now that Haberlein and Backus are behind bars for good, Bell said the family was trying to move on.
"I was happy for (the sentence Haberlein and Backus received)," Bell said. "They deserve worse than that, but I'm glad they got it. (The family) is better, but we're not quite over it yet. I'm just glad it's all over with, and we can put it behind us now so that Robin can rest in peace."