Initiatives bring in big acts to all-green concert venue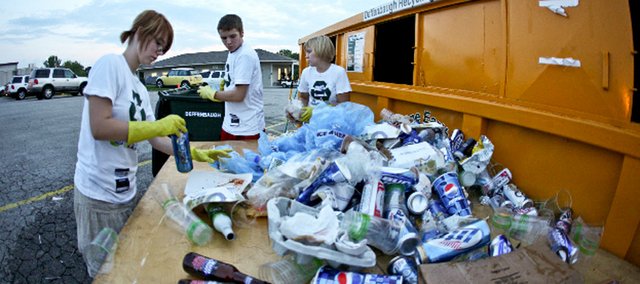 It may have been the word "green" that enabled avid followers of Jack Johnson to see the singer-songwriter perform live at the Capitol Federal Park at Sandstone in the summer of 2008.
"He probably would not have played at Sandstone if we were not a green venue," said Jesse Jackson, director of green initiatives with Sandstone management company New West Presentations and production manager for Lawrence-based booking company Mammoth, Inc.
Jackson said the eco-friendly musician requires any venue he plays at to be a recycling one — at least on the day of his performance — making Sandstone, which already had a day-to-day recycling policy, the perfect place for him to serenade an adoring audience.
That summer marked the first season that Sandstone became open to the public as a completely green concert venue and Sandstone, Jackson said, is the first ever of its kind.
"The territory was kind of uncharted," Jackson said. "There wasn't a green venue in the country. We were the first one."
Sandstone was taken over by New West Presentations in January 2008, after Live Nation opted not to renew its lease the year before. Jackson said New West president Chris Fritz planned to make it a green venue even from the very beginning remodeling stages.
Everything from the paint on the walls to the Energy Star-compliant lighting is, as Jackson said, "environmentally friendly." With the help of several partnering organizations, such as Bridging The Gap and Greenability magazine, Jackson and members of New West and Mammoth, Inc. were able to implement a number of green initiatives. Some of those initiatives include the use of recycled toilet paper, napkins and plates and biodegradable corn cups for beer.
But participating in green activities is only half the mission at Sandstone, Jackson said. The other half is educating audience members about going green themselves. One way of doing this is through the use of large on-site screens offering information and ideas during concerts about how to go green.
Future initiatives include the building of three wind turbines, which Jackson said Sandstone hasn't yet acquired the funding for.
The sought-after goal is for Sandstone to become a LEED certified venue, an environmental badge of honor it could achieve once the turbines and solar paneling are in place. But going green on such a large scale isn't just for the bragging rights, Jackson said.
"For lack of a better way of putting it, it's the right thing to do," he said. "For us, it's where everything is headed. I mean, we as a society cannot continue the way we were."
For a compete listing of green initiatives, visit sandstoneamp.com.