Koontz changes mind, follows heart to hoops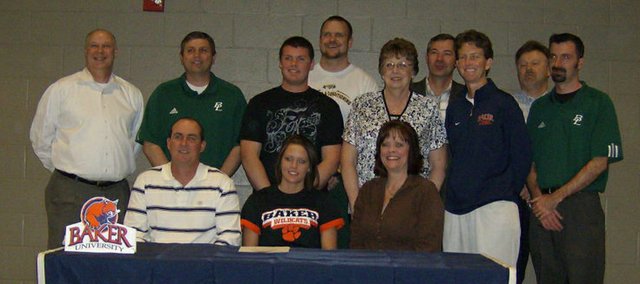 Bren Koontz will have the best of both worlds next season — the opportunity to play basketball and earn an education in biology.
Koontz, who wants to eventually attend medical school, has decided that basketball and higher education can occur simultaneously.
Earlier this season she had doubts, but those have washed away.
"I don't know if it was the success I had, or the love of the game," she said.
As a senior, Koontz became an All-Kaw Valley League guard, tied the Basehor-Linwood record for most three-pointers in a game and led the Bobcats to the Class 4A substate finals against Holton.
She scored 17 points in the substate final loss, which capped an impressive month a basketball and substate run. She scored 27 points in the substate opener and 24 in the semifinal. Koontz' play against Holton impressed Baker University coaches enough that they offered her a mixture of academic and basketball scholarships to attend the school in the fall.
Baker began recruiting Koontz earlier in the season, but the Holton game was the first time that Baker coaches watched Koontz play.
Koontz weighed her options between attending the University of Kansas and not playing basketball or attending either Benedictine University or Baker and playing.
She chose Baker over spring break because the community reminds her of Basehor.
"Basehor and Baldwin are both small, quiet towns; everybody pretty much knows everybody," she said. "I like that. I was not ready to go to a school where you walk into an auditorium of 1,000 (people). I think that I just like the school. They have a really good pre-med program. That was a big part of my decision, too. When I went down there, everything just seemed right. I couldn't figure out one bad thing about Baker, or one reason why I didn't want to go there."
She also decided that she is having too much fun playing to give up the game.
Koontz also has the knowledge of knowing what it is like to be unable to play basketball.
Koontz tore the anterior cruciate ligament in her right knee in between her sophomore and junior years of high school. The injury occurred during the Bobcats' first pick-up game of the summer.
Following the injury, she had to have her ACL operated on. At that point, playing in college seemed less likely than winning the lottery.
"No, I thought I would probably never play again," she said. "Like, the day after surgery, your leg is pretty much jello, I am thinking in my mind about running up and down the court, how could you ever do that again?"
She spent six months rehabbing the injury and then returned to the court in January. She continued playing the rest of the season and helped the Bobcats win a KVL championship and earn a trip to the Class 4A state tournament in Salina.
Then she exploded as a senior this season.
While she looks forward to playing at Baker, there is a part of her that will miss playing high school basketball.
Sure, she is ready for college, but she will miss the support of the community, coaches and teammates. She will miss fans who made games special events during her time at BLHS, whether it's the parents leading "Fired Up" chants or the announcer who calls the three-point shot with that familiar crisp in her name as he makes the call "for three, Bren Koontz."
Then there are the teammates who she had so much fun playing with and coaches who she credits much of her success to. Coaches who believed in her. She wants to thank them all.
"I just want to thank all my coaches that invested their time and believed in me, and my family who was always there for me," she said. "Of course the basketball girls. I will never forget my senior season. It was a blast."
For all the memories, she is ready for the next chapter.
"I am ready to graduate with the high school part, but I wish that I had another basketball season," she said. "I don't think it will be as fun, just like the whole community aspect, not the same ever again. But yeah, I am ready to graduate."
She has begun preparing for life at Baker. She travels to Baldwin twice a week and plays pick-up basketball games with the players on the team.
The game is played at a quicker pace.
"It is very fast," she said. "It is totally different than high school. The plays we ran in high school are set. They just kind of do whatever is open."