New council members sworn in
Outgoing Mayor Chris Garcia reflects on four years during goodbye speech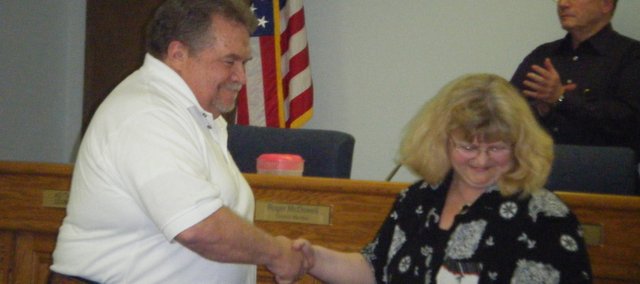 Monday night was both an end and a beginning for some of Basehor's city officials.
At Monday's Basehor City Council meeting, Mayor Chris Garcia and council members Keith Sifford and Roger McDowell stepped down to make room for a new mayor and two new city council members. Mayor Terry Hill and council members Dennis Mertz and David Breuer sat behind the fresh gold plaques bearing their names and titles.
Before he found a seat in the audience, Garcia had a few words of goodbye.
"I wanted to start my speech tonight by saying that this has been the best of times and the worst of times," he said, "But I think someone already took that line."
Garcia instead told a story about a man who stopped by his house one day when he was mowing the yard with his son. The man asked where the nearest McDonald's was, and Garcia told him Bonner Springs had a McDonald's. The man told Garcia he was on his way to a wedding and forgot to book a place to stay. He was looking for a place where he and his wife could change clothes.
"I told him, 'Well, I'm the mayor, and you can come on inside and change here.' Now that's small town," Garcia said with a laugh. "For me, that's what being mayor is about. It's not about the three meetings a month. It's about the people who you help, who stop by and say thanks."
Basehor has developed a lot during Garcia's term, and he said he expected it to keep on growing.
"I've talked to people who can't believe the growth this city has seen, and I take no credit for that," he said. "This is a great city, and it will continue getting better."
Even though Charles Dickens takes credit for the line, Garcia was with Basehor during the best and worst of the last four years.
"This has been really fun and really stressful at the same time," Garcia said. "I've had a lot of help, and I want to thank you all from the bottom of my heart."
Terry Hill's first order of business as mayor Monday night was to announce whom he had selected to fill his vacant spot on the council. Hill chose Bill Moyer, General Dynamics information technology senior program manager.
The council unanimously appointed Moyer to be the fifth council member. Moyer said he was originally from Pennsylvania and now lived in the Cedar Lakes subdivision of Basehor.
"This is my hometown now," Moyer told the council. "I love this area, and I will work tirelessly to earn your trust and confidence."
With the council complete, the members voted, 5-0, for Jim Washington to be the new council president.
Also on Monday, the council:
• Approved, 5-0, a proclamation to declare May 1, 2009 Loyalty Day in Basehor. The Basehor VFW has a series of patriotic events planned for the day.
• Tabled, 5-0, a benefit district petition for Southside Village submitted by Ed McIntosh. The council will act further on the matter when McIntosh has all available signatures.
• Discussed a possible excise tax exemption for Wolf Creek Junction. None of the council members made a motion on the item, and Hill declared it a dead item.
• Approved, 5-0, authorization for the Basehor VFW to perform World War II re-enactments as part of a May 16 Loyalty Day celebration.
• Approved, 5-0, a conditional use permit for Family Fun Circus to operate a circus April 27 at 155th Street and Wolf Creek Parkway.
• Voted unanimously to send Chapter IV, Article 8 of the Basehor Municipal Code back to the Basehor Planning Commission for revisions recommended by City Attorney Patrick Reavey.
• Approved, 5-0, to add item F to the agenda concerning ratification of city staff action with respect to the Wolf Creek Junction contract bidding.
• Approved, 3-2, to ratify the decision made by the council on March 2 to advertise bids for Wolf Creek Junction. The council approved March 2 to use the revised project plans for bidding, but these plans had not been approved by the Kansas Department of Transportation at the time the bids were let. Council voted Monday night to ratify this decision to include the current project plans, not the revised plans. A change order on the project is expected and will not be objected by the contractor.