Operation Wildlife presents one wild exhibition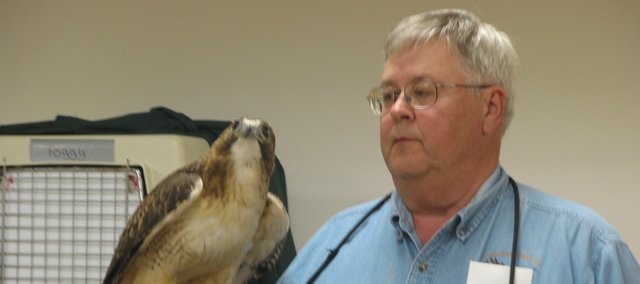 Children and parents took a walk on the wild side Tuesday night at the Basehor Community Library.
Operation Wildlife volunteer Bill Whinery visited the library Tuesday to talk to audience members about Operation Wildlife, of Linwood, and some of the animals it rehabilitates. To the delight of the children present, Whinery brought a few friends with him: a barred owl, a red-tailed hawk and a California king snake.
Operation Wildlife (OWL) was founded in 1989 to provide rehabilitation and veterinary services for injured and orphaned wild animals and educational programs for residents of northeast Kansas and northwest Missouri.
OWL receives thousands of animals each year that have been hurt or abandoned, and the clinic has an average release rate of about 69 percent.
Whinery said OWL's operations were sustained almost entirely on volunteer help. The volunteer staff includes several trained wildlife rehabilitators, seven veterinarians, one registered physical therapist and two nutritional consultants. Many injuries treated at OWL, Whinery said, are the result of drivers running over animals.
Both the barred owl, Barredly, and the red-tailed hawk, Foggy, Whinery brought with him had been hit by cars.
"Barredly, as you can probably see here, is missing one of his eyes," Whinery said. "And Foggy, too, was run over, so she's completely blind in her left eye."
Whinery said the clinic received Foggy the day she was hit. A passing car saw her in the road and stopped. The driver realized she was alive but unconscious and put her into the back of the car.
"Well, you can guess what happened next," Whinery said with a laugh. "She regained consciousness while they were driving to the clinic, and that lady couldn't get out of the car fast enough."
Other than the damage to her eye, Foggy was unharmed. OWL is now home to both her and Barredly because they would not be able to adequately hunt in the wild. Whinery and other volunteers take them to educational events around the state.
The goal of OWL is to care for the animals it receives until they can be returned to the wild, and sometimes this requires some interesting techniques. Whinery said volunteers wore bird masks on their heads and beak-like puppets on their hands to feed baby birds. This was to avoid any imprinting the birds might have with the human helpers. Imprinting occurs when baby animals, especially birds, mimic the actions of and bond to their caregivers. Baby birds will imprint to the first living creatures around them.
"We found out quickly that if we just walked around like we are and fed them from our hands, they ended up thinking they were humans," Whinery said. "They couldn't be released because they relied on us, and they didn't act like normal birds."
Whinery said another rapidly learned lesson at the clinic was to never handle the snakes after cleaning the mouse cages.
"Every year, we have volunteers clean the mouse cages and then try to take care of a snake," he said. "A snake's sense of smell is incredible, and he'll strike out if he thinks he smells a little rodent."
Despite the risks associated with handling wild animals, Whinery said OWL workers had a great time.
"We really enjoy what we do," he said. "It's nice to be able to help all these creatures."
For more information, contact Operation Wildlife at (785) 542-3625, or visit its Web site at owl-online.org.