Flooding forecasted for Leavenworth County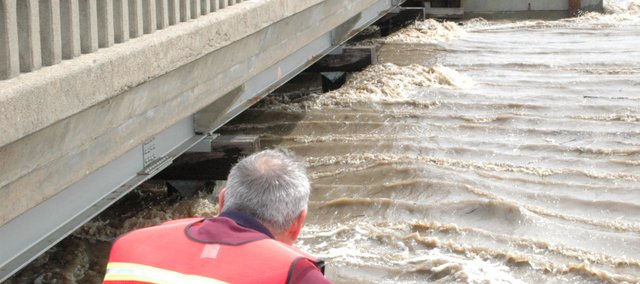 The National Weather Service has issued a a flash flood and flood warning for Leavenworth County.
Around 10:30 p.m. the Leavenworth County Emergency Management Department reported flooding from heavy rainfall. Trained spotters have reported 1.42 inches of rain.
Two to four inches of water have been reported on U.S. Highway 24-40 and Hemphill Road.
Seventh and Church Streets in Tonganoxie have been closed because of high water. The Kansas Department of Transportation said it had closed Kansas Highway 5 from Nine Mile Creek to Seven Mile Creek.
The excessive rainfall will cause flash flooding in Basehor, Bonner Springs, Lansing, Leavenworth, Easton, Tonganoxie, Linwood and surrounding cities.
The National Weather Service said if residents are in the warning area, to move to higher ground immediately. Residents living along streams and creeks should also take immediate precautions and not attempt to cross along flowing waters of unknown depth on foot or by automobile.
The Weather Service advises that residents not drive through flowing water because nearly half of all flood fatalities are vehicle related.
"As little as six inches of water may cause you to lose control of our vehicle. Two feet of water will carry most vehicles away," reported the Weather Service.
At 9:30 p.m. Sunday, Stranger Creek at Tonganoxie was observed to be at 5.56 feet. The Weather Service forecasts that the creek will peak at one foot above flood stage at 24 feet by Monday.
Flooding has been reported at Stranger Creek at Easton.
The flood stage for Stranger Creek at Easton is 17 feet. At 10:56 a.m., the creek was reported to be at 3.2 feet. The Weather Service forecasts that the creek will reach 19.7 feet by Monday morning and will fall below flood stage late Tuesday morning.
It reports that at 19.5 feet U.S. Highway 192 east of Easton will be closed. At 18 feet, First Street in Easton and 231st Street north and south of Easton will begin to flood. At 17 feet low-lying fields south of Easton will begin to flood.