Lansing-Tonganoxie duo leads
KCKCC

to debate titles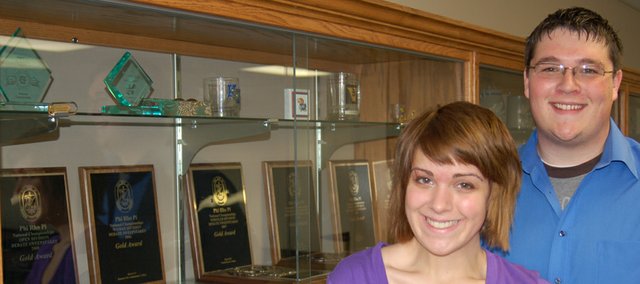 Kansas City, Kan. — If you're looking for the quality turned out by Leavenworth County schools, you need look no further than Miranda Nichols of Lansing and Noah Fugate of Tonganoxie.
In two years on the debate team at Kansas City Kansas Community College, Nichols and Fugate not only won All-American and Academic All-American honors, they were the only two community college debaters named to the 30-member All -American team as selected by the Cross-Examination Debate Assn. (CEDA).
In winning the honors, the duo of 2007 high school graduates also helped KCKCC win record fifth and sixth straight CEDA and Phi Rho Pi national championships. Prior to the building of KCKCC's dynasty by Coach Darren Elliott, no community college had ever won more than three national titles in succession.
The honors were particularly gratifying for Nichols, who missed part of the season with her own illness and the illness of her mother, Marilyn Nichols, and her grandmother, Tommie Lacy. "Early in the year my mom almost passed away, and it was awfully hard on me but she told me you just can't stop and quit, you must keeping on doing the things you love to do," says Nichols, whose mother since has received a pacemaker and recovered. "When I called her that I got All-American, she was so proud and I could hear her. She had the biggest smile."
The CEDA national championship is determined by the success of a team in competition throughout the year against both two-year colleges and universities. In KCKCC's case, more than 95 percent of the competition is against four-year institutions. With Fugate and Nichols teaming up on one Team Policy Debate team and Mike Slinkerd and Charlie Clark on another, KCKCC had the community college championship all locked up before the final tournament at Idaho State in Pocatello.
"Noah and I were very successful together; I owe a lot of my success to being a partner with him" says Nichols, one of only three females on the All-American team. A year ago, they reached the semifinals in the Novice nationals and then placed third in the Team Policy in Phi Rho Pi, and then excelled as sophomores.
"This year was awesome," says Nichols. "Last year I didn't get any speaker awards but this year I got speaker awards in almost every tournament." Highlights included seconds at Kansas State and Louisiana Lafayette, fifth at Vanderbilt, sixth at Wichita State and ninth at Augustana.
Unfortunately, her illness and that of her grandmother kept her from returning to compete in the Phi Rho Pi tournament in Portland, Ore. Opened only to two-year colleges, the national championship is decided by head-to-head competition at the tournament, where Fugate led KCKCC to a resounding triumph.
With Nichols not available, Fugate teamed with last-minute replacement Ryan McFarland of Hutchinson to reach the Team Policy finals. There they avenged an earlier loss to KCKCC's Clark and Slinkerd for a 2-1 win for the Gold Medal. "That was as tense as debate as I've ever been in," said Fugate.
Fugate, Clark and Slinkerd continued their domination in Lincoln Douglas Debate at Phi Rho Pi by all advancing to the semifinals and when Clark defeated his opponent, all three were declared Gold Medal winners because teammates do not compete against each other in the final rounds.
Fugate then completed his sweep of honors by winning the Lynch-Grossman award presented to the debater deemed to represent the best there is in competition and fellowship as voted by his competitors in the Phi Rho Pi national tournament. "That's just about everything any one debater can win," said Coach Elliott. "This has been an exceptional year with great balance of young, new talent and veteran sophomores like Noah, who really stepped up and led the way."
"Without a doubt I've had the most success I've had in my life in anything I've done," said Fugate. "It's really cool to have teachers who I don't even know congratulate me," He missed breaking into the elimination rounds in only three of 11 tournaments this season and compiled a record of 56 wins and 36 losses competing against the likes of Kansas, Kansas State, Minnesota, Oklahoma, UMKC, Missouri State and Emery
Ironically, a change of mind by both Nichols and Fugate led to their success. "I spent my first semester at KU and decided not to debate," says Nichols, who debated all four years at Lansing where she qualified for state her junior and senior years and was captain as a senior. "But I didn't like KU and I missed debating, and Chris Rohan (a past KCKCC All-American from Lansing) convinced me to come to KCKCC."
A standout saxophone player who had earned a I rating at state, Fugate was planning to go to college for band until urging from Tonganoxie debate coach Steve Harrel and a promise from Elliot changed his direction. "Coach Elliott offered me a full ride scholarship I couldn't turn down and promised me success," says Fugate.
Now they'll head off in different directions. Nichols is headed for UMKC where she'll be a member of the debate team. "I've turned down some pretty good scholarships but I love this area and the Midwest and don't want to leave," she says. "I love to debate. It's allowed me to do things I never thought I could do. Winning is great but coming together and meeting other students and talking about things that really matter is what makes debate so great for me." A philosophy major, Nichols hopes to teach philosophy or coach debate.
Fugate will enroll at Emporia State University where he'll debate for Coach Sam Maurer but major in secondary education math. "I want to be a math teacher," he says.
And what does Elliott do in search of a seventh straight national title? "Next year's recruiting class looks very impressive – led by the Lansing duo of Kristyn Russell and Nick Novak."