BOCC

,

LCPA

discuss possibilities of industrial park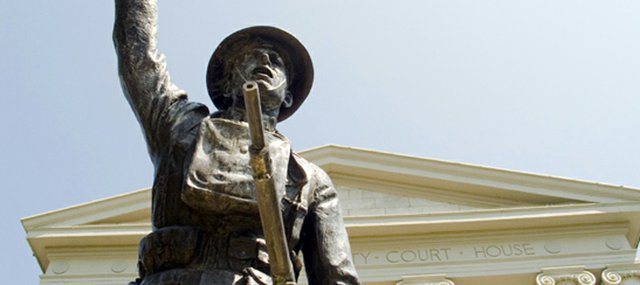 Both the Leavenworth Board of County Commissioners and the Leavenworth County Port Authority agree that they want to see new jobs and industry come to the county.
What they disagree on is who's going to foot the bill.
On Thursday, representatives from the LCPA came to talk about possibly getting a commitment from the county to authorize the LCPA to expend funds to acquire and develop land for a new county industrial park.
Steve Jack, executive director of the Leavenworth County Development Corporation, said the county's current industrial parks were not big enough to support the businesses that have been looking for possible sites.
"About half of the projects, certainly the ones that generate the most jobs, are looking for 30, 50, 80 acres and beyond," he said.
Additionally, Jacks said many of these developers are looking for "no-brainer" sites that have much, if not all, of the preliminary work done and are shovel-ready.
Dan Gutshall, who chairs the land search committee in charge of locating the new park, said he has been working on this for the last three years and the committee is getting closer to making its decision. He gave the county a very rough estimate of around $11.3 million to purchase the land and get it ready for development.
This could mean a nearly two-mill increase in property taxes for county residents.
Commissioner Graeber and the other commissioners did not like the idea of a tax increase.
"We're sitting here and suddenly the people in our districts are going to be hit with a massive property tax increase," Graeber said. "Just how much can we put on the people in this current economic condition?"
Gutshall said that the LCPA was not asking for a mill-increase commitment, but wanted a commitment from the county that when the time came it would help because in order for this to work it would take a connected effort.
Terry Andrews, chairman of the LCPA, said that the organization would have trouble getting 20- or 30-year loans for such a project when it doesn't have a steady source of revenue. The revenue to pay back the loan would come from the industries that want to move into the location.
Graeber suggested looking into the possibility of the LCPA getting the loan and telling the bank Leavenworth County would temporarily make any payments if the LCPA could not.
Currently the LCPA is looking at an 87-acre plot in Basehor, a 159-acre plot in Lansing, an 85-acre plot in Leavenworth and a 237-acre plot in Tonganoxie.
The board directed staff to look into other funding possibilities.