Flooding in Leavenworth County minimal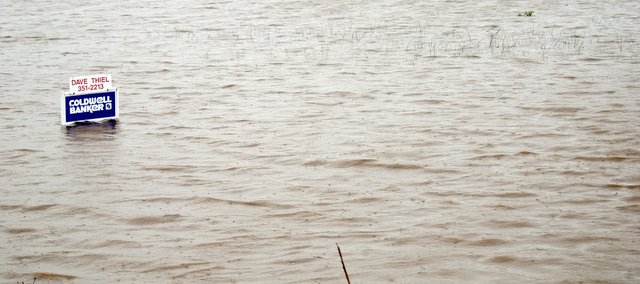 Saturday's powerful storm caused damage to many areas of Kansas, but Basehor and most of Leavenworth county escaped its clutches.
Basehor Police Chief Lloyd Martley said the department had no reports of structural damage or damage to any property in the city. Martley said the biggest concern within the city during the weekend was the potential for flooding. Flash flood warnings were issued, but no roads were closed because of high water, and no flood damage had been reported, Martley said. Also, Martley said he had not heard of any trees or power lines down as a result of the storm.
As a precautionary measure, the city opened its storm shelter for people seeking cover, but the full effects of the storm did not reach Basehor.
Saturday's storm caused damage to eight homes in Leavenworth County, with a total of $479,000 in structural damage, said Leavenworth County Emergency Management Director Chuck Magaha.
Flooding has been concentrated along Stranger Creek, but the water has started to recede, Magaha said. It will take some time to determine the extent of the flood damage in the county.
Leavenworth County Emergency Management Deputy Director Debra Winetroub said the following Leavenworth County roads had been closed after the weekend as a result of high water and were all reopened by Wednesday:
• 235th and Limit
• Hemphill Road east of U.S. Highway 24-40
• 182nd Street at Parallel Road
• 179th Street at Hog Creek
• 188th Street near 24-40
• 187th Street and Leavenworth Road
• 234th Street south of 24-40
• 211th Street north of McIntyre
• 214th and Loring at 9 Mile Creek
• 215th and Stranger Road
Leavenworth County Commissioners J.C. Tellefson and John Flower, along with County Administrator Heather Morgan and County Public Works Director Mike Spickelmier, took a tour of the county and inspected some of the flooding.
According to the National Weather Service, Stranger Creek at Easton peaked at 19.7 feet. Flood stage for the creek at that location is 17 feet.
In Tonganoxie, the creek peaked at 23.76 feet. The flood stage in that area is 23 feet.
Spickelmier said the roads that usually flood in heavy rain had flooded, but public works crews carry barricades in their trucks to block off those roads as quickly as possible.
The Weather Service advises that residents not drive through flowing water because nearly half of all flood fatalities are vehicle related.
"As little as six inches of water may cause you to lose control of your vehicle. Two feet of water will carry most vehicles away," reported the Weather Service.