Basehor grocery store on track for June opening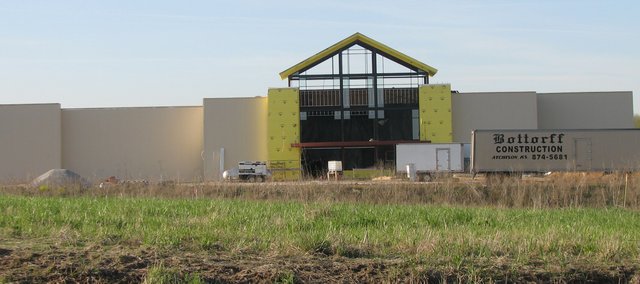 In a little more than two months, Basehor will have its first grocery store since 2001.
The Wolf Creek Marketplace is nearly 75 percent complete, said Benchmark Management owner Ed McIntosh, and Basehor residents should be able to start grocery shopping by June 17.
McIntosh said development of the interior of the store was completely on schedule, as its progress had not been affected by weather. The outside construction has been delayed slightly because of recent rainfall. More structural work needs to be completed, as does the parking lot, but McIntosh doesn't see the weather delay getting in the way of a June opening.
"We've been working really well, and I'm confident we'll make our date," McIntosh said.
In May 2001, a fire spread through the downtown district of Basehor, leaving several businesses in ruins. One of these businesses was the Basehor grocery store. The absence of the store forced Basehor residents to travel to Bonner Springs, Tonganoxie and other surrounding areas to buy groceries.
Four years later, McIntosh, Benchmark Management co-owner John Bell and Wolf Creek Marketplace operating manager Kevin Barclay decided it was time to give Basehor a portion of what it lost in the fire with a new, improved grocery store. It took nearly four more years for the men to put shovel to ground. Construction on the store began in November 2008, and the process has been moving quickly since.
The store will not only be a more convenient shopping center, it will also create many jobs for the city. McIntosh said he anticipated Wolf Creek Marketplace would begin hiring its employees near May 15 or May 20. A Web site for the store is in the works, McIntosh said, and should be completed in a few weeks. The Web site will provide the public with updated information on the marketplace and will serve as a simple way for those interested to apply for jobs.
"We'll have that site up and running soon, and we'll be sure to advertise the site and the job openings in the paper when those are ready," McIntosh said.
For now, the main focus of the project is taking advantage of every sunny day to move forward with exterior construction and making good use of rainy days to continue the grocery's interior.
"I'm hoping we don't have any more weeks full of rain," McIntosh said, "But if that happens, like these last weeks, we'll still be working inside."