Bobcats fall to Maranatha in double-overtime
Photo Gallery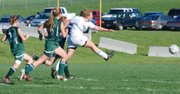 BLHS falls to Maranatha Academy
After struggling to find the net for much of the season, the Basehor-Linwood girls soccer team did just that in dramatic fashion Thursday.
The game ended in a 2-1 loss to Maranatha Academy at BLHS, but a goal with 9:59 left in regulation allowed the Bobcats to force overtime.
While the Bobcats failed to win the game, players hustled, passed the ball well and performed well in the game considering it was the team's third game in four days, coach Jaclyn Naster said.
"It was by far the best game we have played," she said. "We passed the ball well and played good defense. After playing two other tough games last week, I think we ran out of steam towards the end."
Maranatha scored first, but the game was back-and-forth the rest of the way. BLHS continued to knock on the door and finally scored the equalizer late in regulation.
Hannah Kenton received a pass and broke free down the middle of the field, outrunning multiple Maranatha defenders before unleashing a shot into the net that tied the game at 1-1.
After a scoreless first overtime, Maranatha scored the game-winner midway through the second extra period.
Naster said she was pleased with her defense, specifically the performance of Lauren Klem who played in place of Chelsey Journey who was injured during a game against Harmon.
Carol Smith started in goal for the Bobcats, and worked with her fellow defenders to curtail the Maranatha offense.
While the team failed to pick up a victory, Naster said her players are showing improvement this season.
"Each game gets better and better," she said. "We are communicating better and moving the ball well. All I want is to see improvement in every game, and I have not been disappointed. Each game has been significantly better than the last. I am very proud of their continued effort to better themselves and the team."
The Bobcats returned to action Tuesday evening a Lansing, the first-place team in the Kaw Valley League. The Lions handed BLHS a 5-0 loss.