Book Club examines hardships faced by Chinese immigrants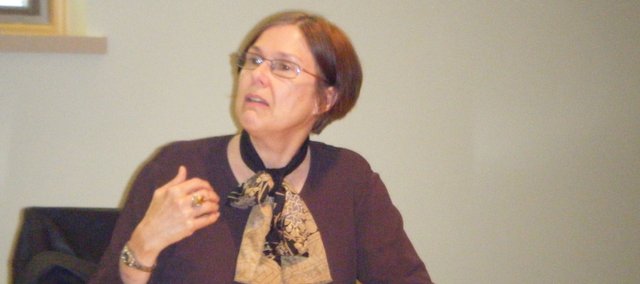 Monday was the last Contemporary Immigration meeting of the Basehor Community Library Book T.A.L.K., Talk About Literature in Kansas.
Members of the book club, sponsored by the Kansas Humanities Council, came to the library on this rainy afternoon to discuss their final immigration novel, "Typical American," by Gish Jen. Nancy Hope, associate director of the Kansas Consortium for Teaching about Asia, led the discussion.
"Typical American," Jen's first novel, is the story of three Chinese immigrants — Ralph Chang, his sister Theresa and her roommate, Helen.
Hope started the meeting asking participants for their opinions of the book.
"This was my least favorite book out of the four we've read," RoJean Mustain said. "I just thought it seemed disconnected and scattered."
All of the women consented they learned something about Chinese culture from reading the novel.
"There is definitely some insight here into China," Hope said, "But there's also some good insight into American culture. One of the good byproducts of looking at another culture is we see deeper into ourselves."
Ralph quickly understands how different America is from China, and he dwells in the realization that what matters in China does not necessarily matter in America.
"Ralph was faced with the challenge of starting all over," Hope said.
One of the most difficult things for Ralph to comprehend is the individualized ideology of American society. In China, Hope said, one's family always comes before oneself. In America, people look out for their own interests.
"Chinese men live with their families, in their family's home," Hope said. "But in America, if a man doesn't own his own home, he is somehow less of a man. Ralph sees that a home is more than a place to live here. A house is a sign that you're an independent adult."
Hope said Ralph, Helen and Theresa in an attempt to cope with the strangeness of America, began to poke fun at certain American people. But later in the novel, the three find themselves acting more like the Americans they criticize.
In the end, Ralph seems to embody a better balance of Chinese and American cultures. He appreciates U.S. freedoms and finds a sense of self, but he also regains his enthusiasm for family values.
"Ralph is redeemed in the end. He begins to focus on what's important," Hope said. "This is a nice lesson for all of us who are struggling with money right now. Remember what's really important."
The Book T.A.L.K. club will start a new series of books at the end of the summer. For more information, contact the Basehor Community Library at (913) 724-2828, or go to basehorlibrary.org.