Marble Days organizers plan full day of activities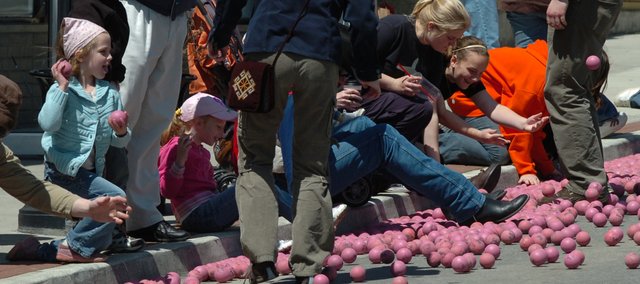 Organizers have announced the schedule for the third annual Marble Days, which will be from 10 a.m. to 3 p.m. Saturday in Bonner Springs and will feature marble-related activities for people of all ages.
• 8-10 a.m.: Marble art registration, Bonner Springs Community Center, 200 E. Third St. — This is a competition for creating marble art. These inventions could be a marble toy, game, receway, gadget, machine, etc.
• 9:45 a.m.: The Wacky Parade — Wear your wackiest outfit and join in starting Marble Days off right from Third and Oak to Centennial Park, Second and Cedar streets. The parade lineup is at the 300 block of Oak Street at 9:45 a.m., and the parade procession will start at 10:00 a.m. The opening ceremony will immediately follow once the parade reaches Centennial Park. Prizes will be awarded for the wackiest outfit/bike/wagon.
• 10 a.m.: Opening ceremony at Centennial Park, Second and Cedar streets — The day kicks off at Centennial Park with singing of the National Anthem, followed by some wacky words from Bruce Breslow, owner of the Moon Marble Company.
• 11-11:30 a.m.: Wings of Love Bird Show at the Community Center, 200 E. Third St. — Birds skate, ride high-wire bicycle, bowl, golf, spell, raise the flag, drive vehicles, speak on cue and much more. For more information, visit wings-of-love.com
• All Day: Marble games at the Community Center — Marble games will take place in the Community Center, 200 E. Third St., and old-fashioned games will take place at Centennial Park, Second and Cedar streets, and various businesses downtown. These events are open to all ages, and will allow participants to learn various games with marbles.
• Noon: Running of the Pinkys down Oak Street — A giant "marble run" will be created on a portion of Oak Street. Pinky balls will be dumped at the top and will roll and bounce their way through a series of obstacles to the finish. Balls will be for sale in advance at participating businesses and on location the morning of the event. The person with the first Pinky in the winning shoot will receive a $500 savings bond. A portion of the proceeds from the sale of Pinky balls will go toward the Bonner Springs High School Art Department. Additional prizes will be awarded to other winning Pinky balls.
• 1 p.m.: Marble Shoot — A marble tournament will take place in Centennial Park for all ages 7-15, and will allow participants to compete against each other in a game called ringer.
Visit marbledays.com for more information.