New restaurants 'energize' old spaces at The Legends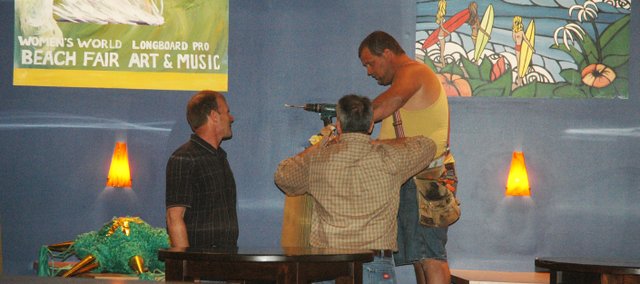 For anyone living near The Legends at Village West, tacos de pescado lovers soon won't have too far to drive for what Bill Brandmeyer calls "the best fish tacos in the Midwest."
In partnership with the Overland Park-based restaurant group K.C. Hopps, Ltd., Brandmeyer is opening two new restaurants at The Legends. Los Cabos, A Mexican Restaurant and Rooftop Fiesta, will fill the space left vacant by Corona Cantina #1 after it closed earlier this year. Wild Fire Steakhouse and Saloon will fill the vacancy left by the formerly open Saddle Ranch Chop House.
"The opportunity is to take distressed restaurants (that aren't) doing very well or failing, and re-engineer them to be successful restaurant concepts," Brandmeyer, who is the managing partner of B. Branded LLC, said of his decision to open Los Cabos and Wild Fire in the vacated spots.
The new restaurants will be similar in scope to their former restaurant counterparts, but will come with a new menu and a new look. The décor at Los Cabos, for example, will be a combination of bright Mexico-inspired colors and vintage art and surf posters — a large departure from how Corona Cantina looked, says Brandmeyer.
"We basically just energized the whole space," Brandmeyer said. "It was an incredible space to start with but it lacked life."
As for the fish tacos, Brandmeyer said the obvious main ingredient would be of the freshest selection that can be found. But fish won't be the only menu item tantalizing taste buds at Los Cabos. A variety of traditional Mexican favorites such as chimichangas, fajitas and enchiladas will also be available. What's more, Brandmeyer said, all menu items will come with an affordable price tag — from $5.95 to $20.
"It's not high-end," Brandmeyer said. "It's all just really economical, good value for your money."
In addition to offerings from the kitchen will be 36 different tequilas and an array of margaritas, as well as what K.C. Hopps corporate trainer Randyl Danner calls "tropical, fun, beachy cocktails." Danner said the bar would also feature tequila flights, which will be a small taster of four different silver, reposado or anejo tequilas.
Wild Fire will serve up a bit higher priced array of rotisserie chicken, seafood and steaks cooked on a wood fire grill — foods Brandmeyer describes as "modern, creative cowboy cuisine." Prices will range from $10 to $32.
In addition to the floor-level dining area, an upstairs loft will offer visitors a place to lounge with free Wi-Fi. Entertainment on the covered front porch will include everything from a pool table to a stage for live bands to perform on the weekends.
The most entertaining attraction, however, might be the mechanical bull inside the restaurant, which Brandmeyer calls Bodacious.
"We will get you on that bull," Brandmeyer assures anyone game enough to try.
Though Brandmeyer said the rooftop fiesta at Los Cabos — featuring a view of The Legends, two bars and live music — won't be open until the last week of May, the floor-level restaurant area is set to open Tuesday, May 5, with a Cinco de Mayo celebration. Wild Fire is set to open in late May. Both restaurants will be located in the Entertainment District on the west end of The Legends.