Leavenworth brothers continuing tradition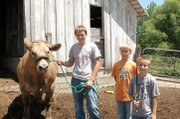 For the Phillips family in Leavenworth, being involved with 4-H is just part of the daily routine.
Brothers and 4-H'ers Jake, Justin and Joe were born of two parents, Alan and Lisa, who were 4-H'ers themselves growing up. And at this year's Leavenworth County Fair, the three brothers will carry on that family tradition by submitting projects running the gamut from swine and bucket calf to woodworking and gardening.
Thirteen-year-old Jake has been involved with 4-H for six years and has been competing at the Leavenworth County Fair for the last five. The projects he will submit include those related to beef, swine, woodworking, gardening and foods and nutrition. Though he says he doesn't know yet what he will build for his woodworking project, he has been raising two steers, neither of which he has named, in preparation for his beef project since late last year. One of his steers now weighs more than 1,300 pounds.
"It's something different. You wouldn't think an animal this big could be as tame as it can get," Jake said of why he enjoys competing in the beef competition, for which he has been a contestant in the last three county fairs. "It gives you a chance to see how you stand against others. It gives you a chance to see if you need to put more work in."
Younger brother Justin, 10, will be submitting projects in the bucket calf, swine and foods and nutrition categories. He has been raising his bucket calf, Babe, since January.
While gently petting Babe, a 400-pound girl that he says he has grown quite close to, Justin reels off the list of tasks he has done in raising her and getting her ready for her debut at the fair.
"Feed it, just take care of it," Justin said. "Comb it, wash it, make sure its ears are clean."
This is Justin's third year competing, but not his first taking part in this particular challenge. He says he earned a blue ribbon for his bucket calf submission last year.
For his swine project, he has been raising a pig since March. Of his reasoning for why he takes part in the bucket calf and swine challenges, he says simply, "I like cows and pigs."
He says he is looking forward to "just competing and having fun" at the fair.
Eight-year-old Joe is taking part in his first county fair, but had a rough time getting started. He says he was pretty upset when his bucket calf Rocky, which he had been raising for the competition since February, died of pneumonia. He has since bounced back, however, and will be submitting projects in the swine, woodworking, foods and nutrition and gardening categories. He will also be sharing Babe with his brother in the bucket calf competition.
Joe plans to build bookends for his woodworking project and is most excited about his garden, which he has been growing with his brother Jake since April. He says he is growing everything in his small garden from peas and cucumbers to watermelons and even sunflowers.
"There's so many that I can't name all of them," he said. "It's just fun to watch 'em grow.
"And eat," he added.
All of the brothers said they were hopeful of getting a ribbon, but weren't sure of their chances. The point of it all may not be about the number of ribbons won anyway, Jake says, but more about how you feel about yourself once the fair is over.
"It gives you a chance to see how much work you did, and at the end how it turns out," Jake said. "And at the end you can say, 'I did that.'"