Youth with American Royal, 4-H experience set for fair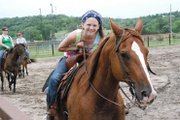 Each year, the Leavenworth County Fair presents participants with the opportunity to show their skills.
This year, one of those competitors is 12-year-old Jessica Vold who will attend the fair accompanied by her dog, Chancey, and her horse, Red. She will compete in obedience, agility and showmanship with Chancey, an Australian Shepherd mix, and will run obstacles and speed events with Red.
Vold has been competing around the state in dog and horse shows for five years, attending various events through 4-H and the American Royal.
"I enjoy doing it because it gives me a chance to bond with the animals," Vold said. "We can learn things together."
A lot of preparation is required for an event like the Leavenworth County Fair. Vold goes to about eight competitions each year, and she makes sure she is completely ready for each one. Practice usually starts for Vold in December, and she practices every week from December until June. Training becomes more intense right before an event, Vold said.
"I practice a lot," she said. "Especially close to a show. I made a work schedule for myself to balance time between my dogs and my horses and school. All my homework needs to be done before I go to a show that's in the school year."
All of Vold's practice paid off when she received her first Agility I title in November after she competed in a United Kennel Club dog show in Lawrence.
"I was so excited when I found out I got a title," Vold said.
This year, Vold is riding Red during her horse show, which is something to which it has taken her some time to adjust. She usually rides Lady, but at 29, Lady has entered her retirement stage, and the more spunky Red is stepping up and claiming the spotlight.
"It's different riding him," Vold said. "But he's a good horse, and he'll do good."
The day of a show, she spends a lot of time brushing and cleaning her animals because every little detail counts. Vold's confidence and experience keep the jitters away as she begins her rounds.
"I don't really get nervous," Vold said. "I just get more competitive. I focus on doing better than I did before."
Though Vold loves competing with her horses, her passion is truly with dogs. Not only has she been working with Chancey this year, but she also has been preparing her grandma's Labrador for shows. She said she thought almost any dog was trainable, and sometimes she liked to train a group of dogs all at one time.
"I work with Chancey and our basset hounds together a lot," Vold said. "The bassets are crazy, and that helps me train Chancey to deal with distractions. At a show, so much is going on, and she could break because other dogs get in a fight or something."
Occasions like the fair are special to Vold not only because of the chance to improve her performances and connect with her animals, but also because it's a rare opportunity to see her fellow competitors with whom she's become friends.
"It's great to come out and do shows," she said. "I like spending time with my dog and horse, but I also really like getting to see my friends who I don't get to see that often. We have a lot of fun at competitions together."