Father, daughter go on archeological adventure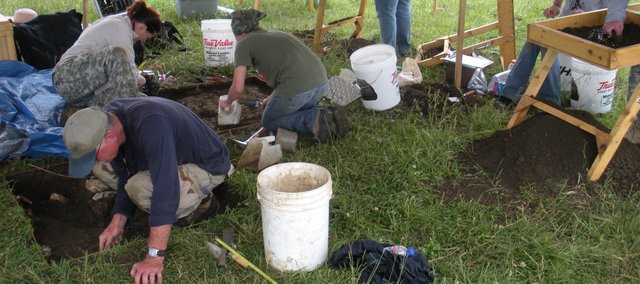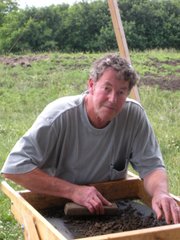 It's a period in history that still holds strong feelings today.
The years leading up to the Civil War were as bloody as the war itself, and no states saw that turmoil better than Kansas and Missouri. As the dust of the fighting surrounding the borders of these two states has long since settled, little remains of the stories of the people affected most.
That's what a recent archeological field school, sponsored by the University of Missouri-Kansas City Geosciences Department and the Bates County History Museum, hoped to discover. And Bonner Springs father and daughter duo Ian and Helen Sangster got to discover the information first hand.
"I'd never been involved in a archeology dig before," Ian said of his experience going into the class, which had class members camping out from June 8-28 in Bates County, Mo. "But it's fun to discover things."
The field school students and professors, husband-and-wife team Ann Raab and Dr. Mark Raab, were studying an era that is known for its tragic events in American history. Leading up to the Civil War, the border of Missouri and Kansas was the scene of constant fighting between pro-Union and secessionist groups.
These fights culminated in William Quantrill's raid on Lawrence, resulting in the deaths of 200 men and boys. In response, the Union Army issued General Order 11 of 1863, which called for the complete depopulation of Bates County.
It is on these homesteads in Bates County where the archeology students found their information as they dug up the remnants of homes abandoned by women and children forced to flee in a hurry.
Two sites were studied during the class, both rural farmsteads near what is now Amsterdam, Mo. The students were looking for clues about the effects of living through such violence and the ability of a county to rebuild, economically and socially.
"There was chronic violence for a decade," Ian said. "We had a round table discussion with the ancestors of those involved in General Order 11, and it still bothers people today. They kept saying they wanted to get their side of the story out."
The class hopes the materials it found will do just that. Ian said items such as metal, glass jars, buttons, necklace medallions, clay marbles and flint from a flint-lock gun were found during the digs.
"That's the kind of stuff we were looking for. How did these people defend themselves from raiders?" Ian said.
While neither Ian, who is an environmental biologist, nor Helen, who is a student at Johnson County Community College, had ever participated in an archeology activity, Ian said the two fit right in.
The class instructors not only gave the students a history, much of which Ian said he had never heard before, but they were taught the fundamentals of archeology. From mapping out a dig site to cataloging every artifact found, Ian and his daughter rolled up their sleeves and got their hands dirty.
"We had a blast," Ian said. "It was really interesting, and we just had a lot of fun."
The experience was also an opportunity, Ian said, to bond with his daughter. While they are now experienced in archeology, and might even be recruited for future digs now that they have the knowledge, Ian said it was just an enjoyable way to spend a couple weeks of the summer.
"It's just really fun to find things," he said. "And learning about our history so close to home, that went beyond what I expected from the class."
The found artifacts, which all belong to the landowners, not the researchers, are still being cataloged. Once that is complete, they will be returned to the owners, and in most cases, will most likely then be turned over to the county museum.
"It was about finding information," Ian said. "We didn't collect anything for ourselves. It's like the teacher said, 'It's not what you find, it's what you find out.'"