Leppke to lead Bobcats with skill, intelligence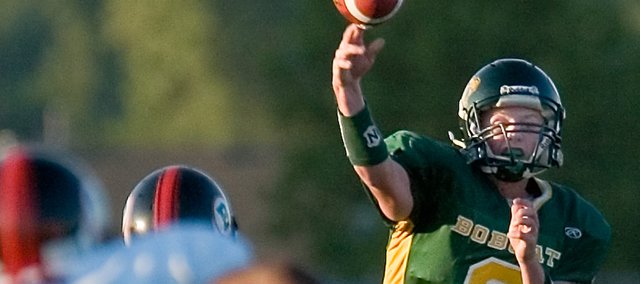 Members of the Basehor-Linwood football team are a little more than two weeks away from the start of practice.
Players gather in unofficial groups to practice passing drills or do conditioning.
The Bobcats return a slew of starters from last year who are eager to build on back-to-back trips to the Class 4A state playoffs.
Quarterback Brandon Leppke is the leader of this group. He was a second-team All-Kaw Valley League selection last season and is entering his fourth year as a starter.
"Everybody seems to get a lot smaller as time has gone on," Leppke said. "My first year, the first game Mill Valley was good that year, and they were all really fast and strong. Now this year, I am just as fast and just as strong as everyone else. Everything (about the game) slows down. It is amazing how much things change from year to year."
While he might have taken a while to mature physically, Leppke always has been smart enough to play the position.
He is a thinking quarterback, having scored a 35 on his ACT and is a 4.0 student in the classroom.
After his initial score, Leppke thought about retaking the test to try to earn a perfect score, but later reconsidered.
The ACT score could create the opportunity to play college football at an Ivy League school. He attended a one-day camp at Cornell University last month, which was a chance to showcase his abilities for scouts.
"I thought it went pretty well," he said. "There were over 200 kids there. I met the coaches, and they all seemed really nice."
Since the camp, he has corresponded through e-mail with coaches from the schools as the recruiting process continues.
He also has spoken to coaches at Cornell University.
Being recruited to an Ivy League school is a different process than being recruited to other schools.
Leppke would need to get accepted to the school academically, and then would explore the possibility of playing football.
However, playing football can be a ticket as it offers a player an avenue to get into school. Typically, Cornell will take on 30 players as long as they are accepted into the school.
Ivy League schools do not offer athletic scholarships. The schools' need-based program offers opportunities to students looking to go to school there with annual tuition and other living fees estimated at $52,000 per year.
"The campuses are really nice up there," he said. "I got to talk with the Dartmouth coach for a while. He was nice and was interested in making sure that players get through school OK and all of that."
Leppke also is exploring other colleges such as Vanderbilt or Rice, along with Kansas State and Missouri.
He is taking a lot of dual credit classes during his senior year of high school and could enter college with enough credits to be considered a sophomore.
"If all my dual credit classes transfer, I could go in as a sophomore. Obviously the higher ranked the institution, the less likely it is to take those credits," he said.
With intelligence can come introspection. For example, being smart can be a positive and a negative in football, Leppke said.
"In some ways it does (help)," Leppke said. "In others it doesn't. You recognize more things, learn more about other positions and can help people out at their positions. On the negative, you can also have a tendency to overthink things, instead of just reacting and playing football."