Massage business owner returns to Bonner Springs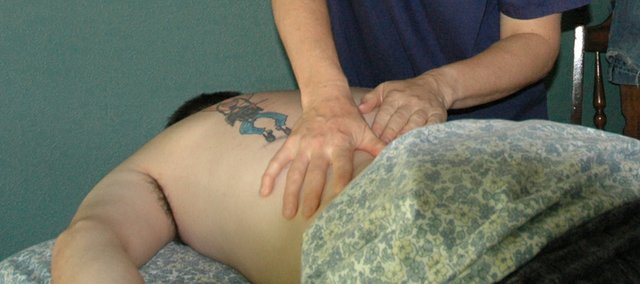 A self-described "massage junky," Shawnee resident and massage therapist Debra Fisher has plans to turn Bonner Springs residents into massage addicts just like herself.
Last week, Fisher opened her new massage therapy business, Essential Massage, inside Five Fifteen, the apartment complex at 515 E. Morse. Fisher offers a number of services, ranging from sports massage to deep-tissue massage to a raindrop technique, where therapeutic-grade essential oils are applied to the bottoms of the feet and along the spine as a way to remove toxins from the body.
Fisher will also offer a nonmassage therapy service in the form of a bio-survey, where a customer can get a computerized screening of his or her body to help measure a person's nutritional needs.
Fisher offers even more in the way of stress relief, she says, by making her prices easy on the pocketbook.
She says $35 will cover a half hour of a regular massage and $60 will cover a full hour. She also offers package deals, senior discounts and will create personalized rates for her regular customers.
"So they can get an hour for $35, depending on the plan they choose," Fisher said.
Fisher moved her business to Bonner Springs from one she was running out of a chiropractor's office in Shawnee. Though the appropriate phrase would be "moved back." She has been to Bonner Springs previously, she said.
"I was there (operating another massage therapy business) a few years ago, and I liked the area," Fisher said. "It's close to home mainly, and it's a nice area."
Fisher said she chose massage therapy as her life's work when she was in her late 20s, after years of working "various blue-collar jobs," as she recalls. She trained at Massage Training Therapy Institute in Kansas City.
"I just wanted to do something to help people," she says of why she chose the profession.
And, she says, massage therapy really does help people much more than they might think.
"You know, if you're an athlete, they're gonna perform better," Fisher said. "If they have a high-stress job, they're gonna be able to do that job better. It just helps people perform better. If they're injured, it will help them heal faster."
Though open for less than a week, Fisher said she has already seen an average week's worth of clients and expects the rest of the year to reflect previous ones she has experienced as a business owner. She says, if anything, the recession has helped her business because people stressed out by money always need a way to unwind with affordable prices like hers.
"It surprised me, because I thought (the massage therapy business) would be one of the first things to go," Fisher said. "But it hasn't proven to be that way at all."
In her first week, Fisher may already have a "massage junky" on her hands. Caleb Charron, who lives in Five Fifteen, visited Fisher for a massage on Tuesday. He said the experience was enough to bring him back for more.
"I'm getting ready to go back to sleep," he said while on the table receiving a sports massage. "It feels really good."
For an appointment, contact Fisher at (913) 558-6398.