Museum recognizes Kansas legend
Amelia Earhart exhibit opens with history of the Kansas native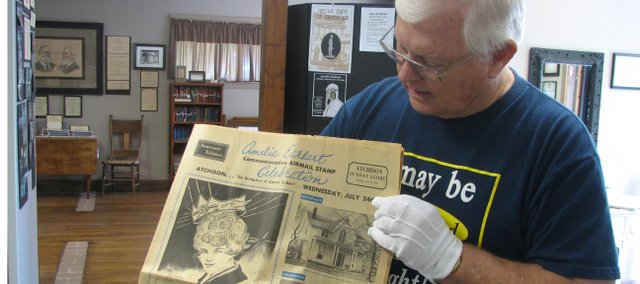 Photo Gallery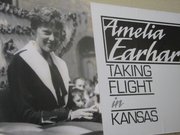 Basehor Historical Museum Amelia Earhart exhibit
The legend of Amelia Earhart lives on through photos, discussions, documentaries and books.
The Basehor Historical Museum, 2812 N. 155th St., has given its visitors another way to remember Earhart through the newest exhibit, "Amelia Earhart: Taking Flight in Kansas."
Pictures and newspaper clippings as well as letters fill the display, which tracks the famous aviator's journeys and accomplishments.
As the exhibit explains, Earhart was born in Atchison in 1897 and spent her childhood in various cities including Kansas City, Kan., and Des Moines, Iowa.
"She's pretty big in Kansas," said Ken Massingill, museum treasurer and Basehor Historical Society Board chairman. "Especially in Atchison."
Earhart wasn't always interested in flying. In fact, she was not at all impressed with the first plane she saw. She described it as "a thing of rusty wire and wood (that) looked not at all interesting."
In her 20s, she caught the bug for flying, taking her first flying lesson in January 1921 and buying her first plane six months later. With this plane — which she named the Canary — Earhart quickly broke female aviation records with feats like soaring to an altitude of 14,000 feet.
Her name swept the country, and, the display says, it wasn't long before she was faced with a new challenge: becoming the first woman to fly across the Atlantic Ocean. Earhart impressed the coordinators of the project and captivated publisher George Putnam. She accepted the opportunity readily and completed the task unscathed. Other women had attempted to fly over the Atlantic before Earhart, but none was successful.
Putnam and Earhart were later married in 1931, after she had supposedly rejected his marriage proposals several times. Though she relented to his affection, Earhart remained devoted to her career and maintained her independence. A piece of the exhibit contains words from a letter she wrote to Putnam before the ceremony outlining some terms of their marriage. In the letter, Earhart said she would not hold Putnam to any "medieval code of faithfulness" and she did not consider herself bound to him. She insisted honesty would prevail if they ran into romantic trouble with other people.
"I think that's such a funny story," museum director Carla Crawford said. "She wanted to be independent no matter what, even on her wedding day."
The display also features information about Earhart's equally infamous disappearance, from the excitement of the adventure to the desperate search for the lost heroine and the mystery that continues to surround that fateful trip.
"It's amazing to me how that happened," Crawford said. "It's so strange how something can be flying along, and then it vanishes, and we lose all contact with it."
"Amelia Earhart: Taking Flight in Kansas" will be available for viewing through the month of August. Visitors are welcome to stop by the museum during its regular hours of 9 a.m. to noon Tuesdays, 1 p.m. to 4 p.m. Thursdays and 9 a.m. to 2 p.m. Saturdays. The museum will also have an Amelia Earhart living history presentation at 3 p.m. today, Thursday.
For more information, call the museum at (913) 724-4022.