Sixth-graders look for funds to visit
U.S.

Capitol for the first time as People to People delegates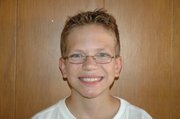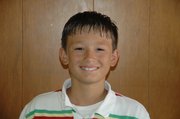 Heading to the big city can be nerve-racking for anyone.
Not so for 11-year-old Kristopher Hann, who was one of several Bonner Springs Elementary fifth-graders nominated by teachers Tammy Meisenheimer and Jim Hann to become delegates at the People to People World Leadership Forum in October in Washington, D.C.
Out of 10 local students nominated, only Hann and his former classmate, 11-year-old Michael Amayo, will be attending the forum. But Hann insists he's not nervous, or excited for that matter. At least, he won't be until the trip is closer at hand.
"I don't get excited really easy, unless it's like a big thing," Hann, who will be going into the sixth grade at Lansing Middle School this school year, said.
"Well, this is a big thing," he quickly added. "But I don't freak out until the last minute. I don't get nervous either."
Hann and Amayo, who is going into the sixth grade at Clark Middle School in the fall, will be joining young students from around the world on the six-day trip, from Oct. 19 to Oct. 24, which includes visits to historical Washington-area landmarks such as the Arlington National Cemetery and the Holocaust Memorial Museum. Along the way, the students will learn about the history surrounding these monuments and will also get a chance to discuss current world issues.
To be nominated, students must meet certain criteria, such as achieving top grades and showing good leadership qualities. Amayo, who has both qualities, says he has the latter in spades.
"Helping kids if they don't know a question," Amayo said of the ways he has been a leader during his time at BSE. "I try to help them figure it out the best I can. And help people if they are sad or disappointed."
Amayo has also been heavily involved in Mathletics, a math competition, as well as the spelling bee since the third-grade. He presented last school year at the Science Fair at Union Station in Kansas City. He takes part in extracurricular activities such as sports and theater. He says actively being a part of such an experience will be a much better way to learn about Washington than just to study it from a book.
"If I experience it, and I have a quiz on it, I'll know it," Amayo said. "Where other people that didn't get the opportunity have to study it to know it instead."
Hann has exhibited his leadership skills by serving on both the student council and the student leadership team at BSE. He has also earned trophies in his music class and says he helps his fellow students out whenever he can. His father and his son's former teacher, Jim Hann, said Kristopher shows a maturity that is beyond his 11 years.
"It's one of the reasons that I was so enthusiastic about this, because he's a very responsible young man and I know he'll do the right thing when given choices, options," Hann said. "He usually picks the best option, he'll make the right choice."
Meisenheimer, who as the boys' homeroom teacher was the one who specifically nominated these two to go on the trip, said she chose Amayo and Hann because they are already, at the young age of 11, well on their way to becoming formidable leaders in the world.
"They're already the leaders of tomorrow, and they're just responsible, inside (and) outside the classroom," Meisenheimer said. "They've got the maturity to go someplace by themselves, and they both will make the world a better place. They're incredible, incredible young men."
Both boys have traveled outside of the state of Kansas a number of times, but neither has been to Washington. Amayo said he is most excited about seeing the National World War II Memorial, because he has a strong interest in the military and would like to eventually join as a gun engineer. Hann said he's excited to see the White House, but is also looking forward to another feature of the trip.
"The five-star hotel I'm staying in," he said.
Both boys found out in May about their acceptance, and the only thing left to do now is to raise the money. Both have secured their airfare, paying for it themselves through yard work and other chores, but each family must still come up with a $2,300 fee for the trip itself, in addition to expenses. The boys and their families will be looking to gain sponsorship from businesses and organizations in the area to overcome this last hurdle.
Jim Hann said the trip, of which neither of the boys' parents will be attending, was well worth the money spent because it would give Amayo and his son Kristopher a chance to learn in a way they would never be able to do with parents underfoot.
"Anytime a young person gets to travel and gets life experiences and gets to make decisions on their own, they're going to learn at least twice as fast as when their parents are holding their hand," Jim Hann said. "And it's a tough thing for parents to let go of that hand, but the learning really occurs tremendously faster when you let go a little bit."
"For a short period of time," he added.
To sponsor Amayo or Hann, contact Jennifer Amayo at (913) 422-1455 or Jim Hann at jimhann@hughes.net.