Commissioners explore options for land usage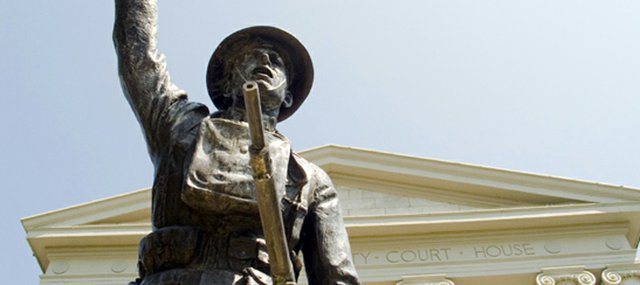 The Leavenworth County Commissioners don't have money in next year's budget to pay a firm to develop a land use plan, but to keep development rolling they are looking at another option on County Road 1.
On Thursday, the commissioners met with Jeff Joseph, director of the planning and zoning department, to discuss a special development district along the CR1 corridor.
"I have been contemplating this since 2007. The advantage of a special development district is that it is a consistent set of regulations," commissioner J.C. Tellefson said. "As such, it is imperative that we develop a set of guidelines that the city of Tonganoxie can live with as well as us."
Among some of the commissioners' major issues included whether to allow for acreage requirements of 10 or 40 acres, how much green space was needed, what kind of fees should be established in the SDD and what kind of buildings can be erected.
The commissioners also discussed what level of input the city would have on development outside of its urban growth management area.
The commissioners wanted Tonganoxie's input, but said it would have no weight on their final decisions on development.
Tellefson said his goal was not to adopt Tonganoxie design standards, but to make the design standards acceptable to Tonganoxie so it will have an easier time annexing property along the corridor in the future.
The commissioners discussed the different aspects of the SDD for about two hours, at times not agreeing on the proper course of action.
Joseph said that a lot of the issues with the SDD would be resolved in a future land use plan. He also said that his department did not have the capabilities of developing the land use plan.
Before the commissioners formally adopt the SDD, they will have the Leavenworth County Planning Commission review the changes they made on Thursday.
Mike Yanez, city administrator for Tonganoxie, was present during the meeting.
Yanez presented the proposed SDD plan to the Tonganoxie City Council on Monday for their review.
In other business the commissioners:
• Unanimously accepted a request to waive the hiring freeze for a temporary receptionist and a part-time social worker for the Leavenworth County Health Department.
• Listened to quarterly reports from the Leavenworth County appraiser, the Leavenworth County Council on Aging, the Leavenworth County Solid Waste Department and the Geographic Information Systems.