Amelia Earhart history performer visits Basehor museum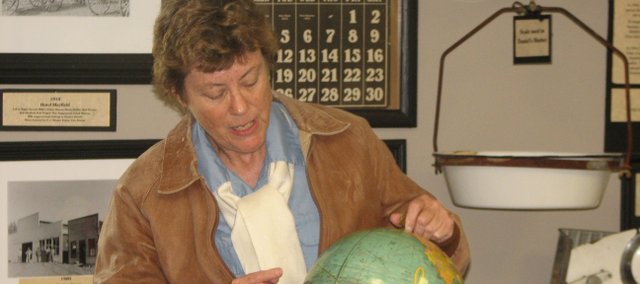 Amelia Earhart flew into Basehor Aug. 6 to talk to some community members at the Basehor Historical Museum.
Living history performer Ann Birney travels all around the globe impersonating Earhart and telling the story of the famous aviator's life.
Earhart became hooked on flying the first time she went up in a plane.
"It was even more wonderful than I imagined," Birney said. "It's just you and the plane and all that sky. The problems you have on the ground disappear in the air because there's nothing you can do about them up there."
It wasn't long after that initial flight Earhart was asked to be the first woman to fly across the Atlantic Ocean. She agreed and scheduled an interview with the project committee.
"I was nervous about that," Birney said. "They were looking for one woman to represent all women, and I wasn't sure that was possible."
Earhart was readily chosen to complete the mission. The mission, however, was not quite what she had in mind.
"What a lot of people don't know is they had already hired a pilot and co-pilot," she said. "I sat on a wooden box throughout that flight. I was nothing more than a sack of potatoes."
Her lack of contribution on the flight combined with comments from her doubt-filled male peers made Earhart determined to fly solo across the Atlantic.
"I knew I could do it," Birney said. "The plane doesn't care who you are, man or woman, just as long as you can fly."
The flight was rocky, but she made it. After 13 hours in her plane that was falling apart, she landed in a cow pasture in Ireland.
When she was finished telling this story, Birney took off her faded brown jacket to talk a bit about Earhart's final flight and her last recorded moments.
"Imagine being that radio operator, and you can hear her, but she says she can't hear you," Birney said. "She says, 'I must be on you, but I can't see you,' and then nothing. She just disappears."
The world may never know what truly took place after Earhart lost connection with the operator.
"I think they probably ran out of fuel and went down into the ocean," Birney said. "But we don't know. Some people swear they've seen her as an old woman. It's possible we won't ever know."