Cash for Clunkers boosts car sales, creates dealership troubles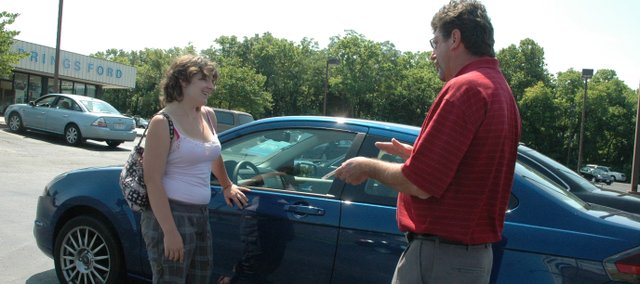 Cash for Clunkers, signed into law July 1, has accounted for half the July sales at Bonner Springs Ford, but general manager Steve Cook said the program wasn't without its downsides.
The federal government originally allocated $1 billion for the program, which allows new car owners to receive rebates up to $4,500 when they trade in their fuel-inefficient cars for new and more environmentally-friendly models. Its design was to boost car sales and get more fuel-efficient cars on the road. A hugely popular program, it nearly ran out of money by the end of July, causing the U.S. Congress to pass a $2 billion extension.
Though Cook said the Bonner Springs Ford has now seen 18 Cash for Clunkers transactions, one downside of the program was that it took several weeks for any of these transactions to be made after the July 1 signing.
It wasn't until July 27 that dealerships were finally allowed to begin making Cash for Clunkers transactions. Cook said he had so much interest in the program by then, that eight buyers had already taken care of the paperwork beforehand and were ready to drive their new Ford Focuses, Escapes or Rangers off the lot that day. He says, since then, the interest hasn't waned at all.
"The phone would ring like crazy, phone's still ringing," Cook said.
The success of the program, mixed with the state of the economy has caused another downside, Cook says: A dwindling supply that doesn't meet the huge demand. Cook said he has already run out of Rangers and Escapes. Though he says he can get more inventory in, there's no telling if the program will still be in existence by the time the new cars get to the lot.
"In auto manufacturing, it takes several weeks to fill up the pipeline again," Cook said. "It'll take 30 to 60 days to get them in, and we don't know if the program will still be running then or not. We're optimistic that we'll be able to sell a lot more vehicles before the money runs out, even though our inventory's pretty low right now."
Cook can point out the row of clunkers still sitting in the lot behind his business. They must be picked up by a salvager and destroyed, but not until the government approves every transaction and the rebate money is reimbursed by the government to Bonner Springs Ford. Cook says his dealership is waiting on that money, and is still waiting on approval for 15 of the 18 cars, with no idea when either will come in.
"(The government) passed it, but they just weren't prepared to deal with it very well," Cook said.
Still, Cook says, 18 car sales is nothing to turn your nose up at.
For more information , visit CARS.gov or contact Bonner Springs Ford at (913) 422-2045.