Changes come as school begins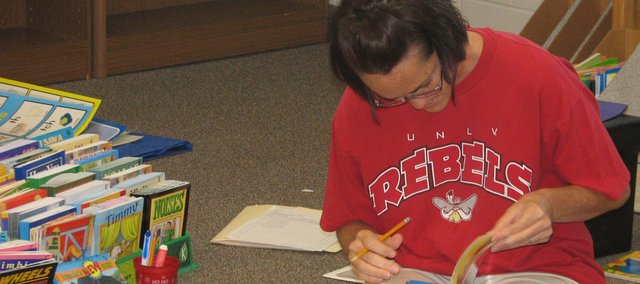 Today marks a time some students have been looking forward to and some students have been dreading.
It's back to school for students in grades kindergarten through ninth in the Basehor-Linwood School District. Basehor-Linwood High School sophomores, juniors and seniors are enjoying their last day of summer today, as they begin school Friday.
This year, students can expect to see some changes in their schools with construction, new faculty and the effects of a tight budget.
At Monday night's Basehor-Linwood Board of Education meeting, construction supervisor Chris Claflin gave a report about the district's projects. Students attending school at Linwood Elementary and Glenwood Ridge Elementary today will see some continued construction to the buildings.
"(Glenwood Ridge) is pretty much ready for school," Claflin said of the addition built onto the school.
Classrooms in the new addition will be ready for use this year, which will provide teachers with some needed extra space and students with some new areas to explore.
Linwood Elementary students will be dealing with ongoing renovations during the month of August. The school's entrance and walkways have been improved, and a canopy on the front of the building is still in the process of being finished.
"It looks like a mess, but we're making good progress," Claflin said of Linwood. "We're hoping to be out of there by Sept. 1."
Along with new building improvements, students can also expect to see some new faces in their classes. The district hired 12 full-time teachers and one part-time teacher for the 2009-2010 school year.
Director of curriculum and instruction Sandra Guidry said at Monday's meeting she spent the previous two weeks with the new faculty members, and reported they were eager to start working.
"They're excited and ready," Guidry said.
Enrollment numbers are also up this year, which could mean new classmates. Assistant Superintendent Mike Boyd reported at the school board meeting the district would have approximately 1,902 students at its campuses, which was about 42 more students than it had last year.
"We also have about 23 more students making the transition from eighth grade to high school than we did last year," Boyd said.
In the midst of a state budget crisis, however, students will also see a few not-so-welcome changes. Among these is the elimination of the Building and Trades class at the high school and several increases in fees. With approved fee increases, the agendas for Basehor-Linwood High School and Basehor-Linwood Middle School were raised $2, making the new costs $8 for high school students and $7 for middle school students.
Yearbooks for high school students cost $5 more, setting the cost at $50 per book.
Students' lunches cost more during this school year, as well. Student lunches are $2.25 at the high school and middle school and $2.15 at the elementary schools, which is 15 cents more than the lunches cost last year.
Those taking the high school Industrial Arts class this year must pay $20 for the class, which is $5 more than the class was last year. Additionally, students enrolled in any of the Project Lead the Way courses will pay $25. The Project Lead the Way classes previously did not have a fee.
The district is also now charging a transportation fee for students riding the bus who live less than 2.5 miles from school. Each student who lives less than 2.5 miles from school will have to pay $200 annually to ride the bus, with a maximum fee of $400 per family each year.
The school board approved the district's budget Monday, and Superintendent David Howard said he was not anticipating any other major changes.
"We're in pretty good shape right now," Howard said. "If there are any further reductions, we won't have to do anything drastic."